Grind: Big Burgers at Mall of Arabia
Mall of Arabia, Gate 3, Juhayna Square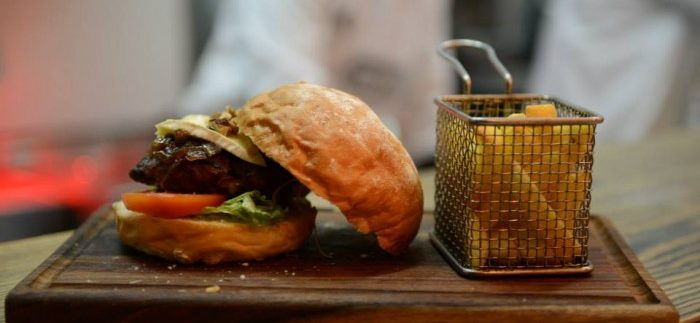 To the delight of meat-lovers across the city, burger restaurants in Cairo have become common place, all competing to serve up the best burgers in town. The newest burger and steak place to join 6th of October City's Mall of Arabia is Grind, offering quality imported meat from South Africa.
Grind enjoys letting its diners know that they grind their meat on-site and boasts that their burgers are 80% pure steak meat and just 20% fat, served on your choice of either brown or white bread. Their menu offers a variety of appetisers, salads, burgers, steaks, cold sandwiches, one chicken meal and a breakfast menu, alongside beverages including sodas, milkshakes and fresh, chilled juices.
Situated close to gate 3, the open venue is decorated as an American diner. Narrow, with the kitchen placed at the far end, the seating is a mixture between built in benches, rigid steel chairs which are placed too close together, making the arrangement quite inflexible and uncomfortable. Although it's an altogether pleasant venue, there is nothing to separate diners and shoppers.
While it's very rare to find Camembert dishes that are treated the way the cheese deserves, Grind's Camembert Bites (36LE) were outstanding. Five pieces of breaded, melted cheese were deep fried to perfection, served with an unfortunately run-of-the-mill marinara sauce.
Shortly after our appetiser, our burgers were served; the Swiss Mushroom Burger (67LE) – served with Swiss cheese, mushroom sauce, lettuce, tomato and a side of French fries – and the Brie Cheese Burger (69LE); Brie cheese, caramelised onions, walnuts, lettuce, tomato and their signature sauce, with a side of French fries.
Though the mushroom sauce on the Swiss burger was decidedly average, both substantially sized beef patties tasted fresh and tender, with the signature sauce making the Brie Cheese Burger stand out as the better of the two.
As a welcome gift of sorts, the restaurant's manager served us home-made, baked bread pudding, on the house. While we were grateful of their friendly gesture, the muffin-shaped dessert filled with sweet, hot pudding was a little too heavy to follow the massive burgers.
Just before cursing the idea of not having a bathroom nearby to rid our hands of burger grease, one of Grind's friendly waiters placed hand sanitizer and toothpicks on our table for convenience.
While the idea of freshly ground beef is a quite a novel feature, it isn't quite enough to elevate Grind amongst the likes of Gourmet Burger, Butcher's Burger and other established burger joints around the city.