Hamada: Affordable Pasta Dishes in Downtown Cairo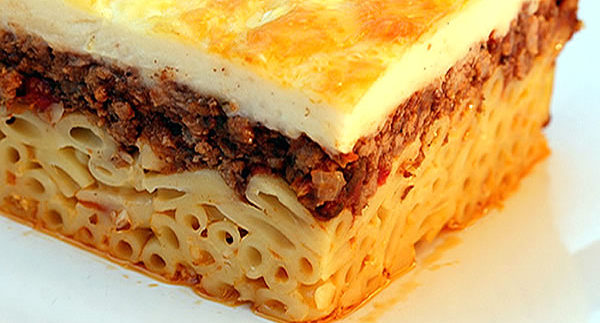 The key to success for restaurants in Cairo isn't always about gourmet food and lavish interiors. Sometimes it's merely value for money, as is the case with Hamada; a low-key Italian restaurant located on Mohamed Bassiouny Street in Downtown Cairo.
The restaurant is small in size and divided into two floors, with the bottom half serving as the kitchen and the top as the dining area. The decor is rather confused; with paintings on the walls and cushioned embroidered chairs, it reflected more of an Oriental or Turkish atmosphere and in no way hints at Italian. While culturally confusing, it was still a comfortable and pleasant atmosphere.
We opted for pasta in béchamel sauce (6LE) and pasta in tomato sauce (6LE) with two side dishes of vegetables (3LE) and liver (3LE). Canned drinks cost 3.50LE and water 3LE. The food took a little under five minutes to serve.
There is no ingenuity or creativity when it comes to ordering béchamel or tomato sauce in Egypt – two staples of Egyptian home cooking when it comes to pasta. So, the real evaluation isn't so much dependent on providing a twist, especially at this price range, but rather the execution of classic dishes.
While certainly not fresh, the pasta in béchamel sauce was pleasingly creamy and cheesy, and the difference in texture between the pasta, meat and sauce created a very satisfying mix. Similarly, the pasta in tomato sauce was full of flavour. The presentation, however, is somewhat sloppy, with the restaurant using paper plates and foil cartons – but then again, you get exactly what you pay for.
Hamada also offers a larger meal consisting of pasta in tomato sauce accompanied by half a chicken (22.50LE) or a quarter of a chicken (15LE). Once you're done with your meal, you can choose between Mahalabia and Rice Pudding at (2.50LE) for dessert.
While by no stretch of the imagination is Hamada the most luxurious of restaurants, it provides very cost effective solutions to the crowds of hungry people getting off work in the afternoon and, while the presentation of the food is weak and decor totally unrelated to the cuisine, these are factors you simply will not care about if you're looking for a 6LE paper plate of pasta.