Il Divino: Chic Pizzeria in Zamalek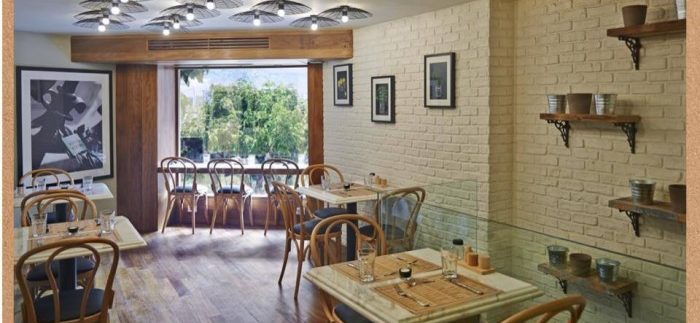 Proving that good things do indeed come in small packages, Il Divino is the latest restaurant in Cairo offering an authentic taste of Italy.
Located on Zamalek's Abul Feda Street, Il Divino serves up more than just good pizza. The restaurant is split over two floors, with the ground floor boasting the restaurant's pride and joy for hungry diners to see – a wood-fired oven. Said oven, along with the rest of the kitchen, and the cashier counter surround the stairs leading up to the restaurant's small seating area.
While the seating arrangement is very limited, the surroundings set the mood for a fast and quite delicious meal.
Though appearing modestly designed at first, it's not till you settle in that you appreciate décor's touches of flair. Settling on a table next to the staircase, we couldn't help but notice the casual and unobtrusive lighting, creamy white bricked walls, the wooden table-wear and even the scented candle, all of which combine to give a casual-chic vibe. Not limited to basic pizzas, the menu also includes a mixture of salads, calzones and desserts.
We started our meal with a simple Insalata Verde (30LE) salad; a mixture of fresh green leaves with a special homemade dressing that gave off a hint of Dijon mustard. Though basic in flavour, the light salad makes for a perfect appetiser as you contemplate which of twenty five or so pizza options to go for.
Soon after, our main dishes of the Piccante pizza (52LE), and the Vegetariano calzone (52LE) were served.
The Piccante pizza combined a mixture of mozzarella, tomato sauce, oregano, chicken, green peppers, jalapeno peppers, onions and fresh tomato cubes. Hitting our taste buds with a dash of spiciness, the pizza's thin crust was cooked well, while the combination of ingredients was quite filling. However, there was a displeasing shortage of the most important ingredient of any pizza – the cheese.
The Vegetariano calzone, filled with creamy mozzarella, rich tomato sauce, asparagus, artichoke, olives, fresh mushrooms, green peppers, and onions, was exceptionally flavourful and large in portion. Whilst the dough itself was delicious, the asparagus was horribly overcooked.
From just two choices on the dessert menu, we decided on the Torta Di Mele (35LE); an Italian version of apple pie that has no top crust. Though the bottom crust itself was baked well, the apple mixture sitting on top of it was much more viscous than traditional apple pie. In addition, a creamy white frosting that covered the pie pushed it the sicklier side of sweet.
Overall, if you're looking for a good atmosphere and wishing on a good, authentic version of pizza in Cairo, Il Divino certainly won't disappoint.