Just Falafel: Famed Falafel Specialist Takes on Cairo
15 Zamalek Club Wall, Gameat El Dowal St.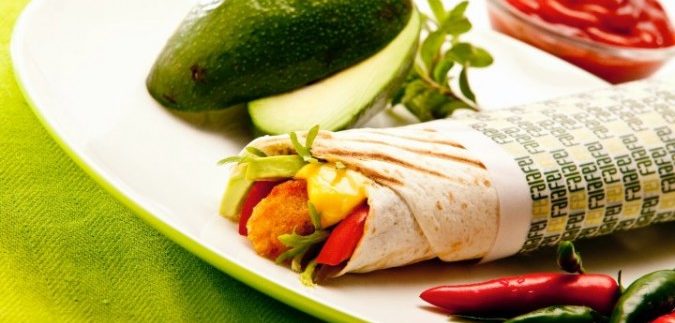 Even in its various gourmet froms across restaurants in Cairo, falafel – or taameya as its locally known – is an everyman delicacy in Egypt. Legume allergies aside, not one person that has stepped foot on Egyptian ground hasn't enjoyed at least one falafel sandwich. With such popularity and unshakeable reputation as an epitome of local Egyptian food, it's unsurprising that local restaurants celebrate the stuff so enthusiastically.
Established in UAE in 2007, Just Falafel is a franchise that strives to twist your average falafel meal. Alongside three branches in Egypt, Just Falafal can also be found in Turkey, Oman, Jordan, Lebanon and even in the UK.
Un-missable with its trademark green exterior, the fast food restaurant's Mohandiseen branch is set over two floors. The downstairs area is reserved for the large ordering counter, whilst upstairs we found ourselves in a conventional seating area overlooking Gameat El Dowal Street.
The menu features a variety of exotic falafel sandwiches such as the Mexican (13LE), made of falafel, cheddar cheese, lettuce, pickles and tomato salsa wrapped in tortilla bread or the Italian (12LE); taameya with mozzarella cheese, tomatoes, cumin and pesto mayo in between a loaf of ciabatta oregano bread. For an extra 3LE, there's the option of having falafel baked as opposed to fried.
The restaurant also offers a few sides such as falafel bites (8LE), spiced potato wedges (9LE) or Just Falafel hummus (9LE) with herbs and jalapeno. Dips such as red chili paste, cocktail sauce and pesto mayo are also available (4LE/each).
We ordered a tortilla wrap of Japanese baked falafel (16LE) and a fried Indian falafel in brown bread (15LE). To add some extra flavour, we ordered tubs of pest -mayo and Indian dip. Due to our baking request for the Japanese falafel, our order took a little longer to prepare than usual; both sandwiches were served on plastic trays, neatly wrapped and clearly labelled with stickers.
Unfortunately however, nothing tasted as good as it looked.
The pesto-mayo dip featured only a sprinkle of pesto which left it tasting like plain mayo, whereas we found the Indian dip to be much too strong, spicy and unappetising. Unfortunately, aside from vegetables, the Indian dip was one of the key ingredients in the Indian sandwich which overwhelmed all of the other flavours. The Japanese wrap, on the other hand, was accompanied with a peculiar mix of fresh avocados, lettuce, tomatoes, sesame seeds, ginger and a Japanese mayonnaise. While one can only applaud creativity in food, there was an ingredient overload; the Frankenstein creation just didn't sit well, with even the textural mish-mish made it difficult to eat, enjoy or discern any flavours.
While praise must be given to the company for adding a refreshing twist to a food that has remained unchanged for generations in Cairo, at the end of the day, patrons are looking for flavour more than concepts.