K-Lounge: Making Dining Simple in New Cairo
City Plaza Mall, Street 17 (Beside Seoudi Markert), Fifth Settlement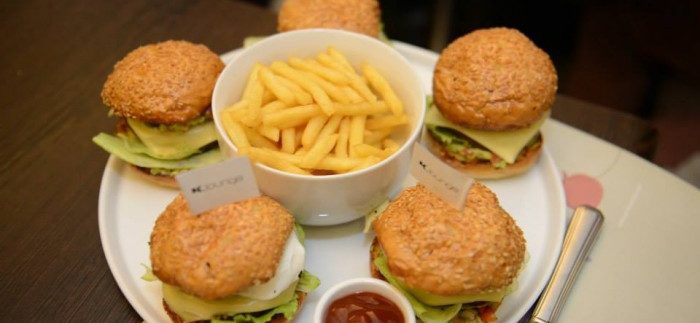 With an abundance of cafes and restaurants in Cairo crowding the centre of town, it's always nice to hear of new eateries opening in the further regions of the city. Located in the ever expanding Fifth Settlement in New Cairo, K-Lounge is an offshoot of the ever-popular dessert and café chain, Abdelrehim Koueider.
Not to be confused with Mandarin Koueider in Downtown Katameya Mall on Road 90, the separate Koueider establishments are individually run by two feuding families. Both popular and successful, the two franchises forever seem to be in an eternal game of one-upsmanship.
With a venue covering two floors, the ground floor is dedicated to selling dessert and take-away meals, whilst the second floor features a chic seating area that can host large groups. The decor is both elegant and casually classy, with warm lighting and a myriad of colours used.
As an immediate indication of the quality at K-Lounge, we quickly came to learn that the current chefs were previously plying their trade with popular chain, Casper & Gambini's. Their international menu offers selections such as pizza, pasta, burgers, paninis, salads and appetizers along with desserts; oriental sweets, cakes and ice cream.
While some may see it as a drawback, we were more impressed by the concise selection of main courses; it's a move that suggests an expertise in the dishes as opposed to the 'jack of all trades, master of none' approach to cooking. We opted for a K-Lounge Salad (40LE), cashew chicken (54LE) and the K-Lounge Burger (51LE).
Before long, we were brought a basket of warm chapatti bread to be enjoyed with butter. The K-Lounge Salad soon followed and tasted great; crisp lettuce, fresh mushrooms, dried fig, tomatoes and ribbons of pink smoked salmon drenched in an exotic raspberry sauce.
As a common dish in the Orient, the cashew chicken is made with cubes of chicken mixed with sesame seeds and soya sauce, green peppers, onions and, of course, cashew nuts. Served alongside smoked basmati rice, the generous portion was cooked well and tasted great, despite being under-seasoned.
Although full of flavour and freshness, the burger was much smaller in size than we were expecting and would not have satisfied a hungry stomach had it not been for the side of potatoes, salad and sweet corn.
One cannot visit any form of a Koueidar establishment and leave without having a helping of Oriental sweets, but we were advised otherwise by our waiter. Instead, he recommended the cheese (24LE) and carrot cakes (28LE), both of which were flavourful, light and perfect alongside fresh mango and lemon mint juices (18LE/each).
With its sharp service, a well-thought out menu and good food, all wrapped in a cool, contemporary setting, K-Lounge looks set to become a firm favourite in New Cairo.