Kalmangi: Surprising Restaurant & Café in Sun City Mall, Heliopolis
Sun City Mall, 2nd Floor, Autostrade Rd.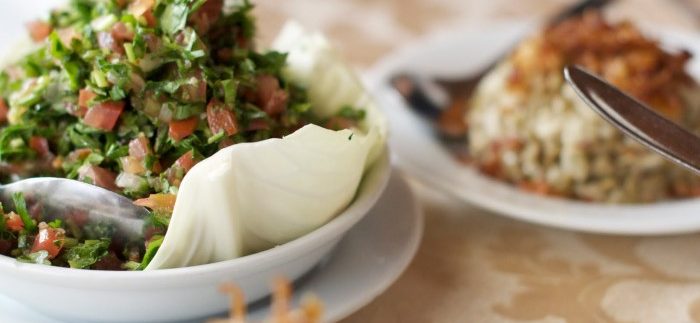 There's been a recent surge of Levantine-styled cuisine across Cairo's restaurants and cafés . Due to the simplistic preparation and unanimous delectability factor, many new restaurants form menus based on this winning formula. In Heliopolis' Sun City shopping mall, newly opened restaurant & café, Kalamangi, has established itself as a contemporary, casual eatery for both Lebanese cuisine and shisha.
Located on the second floor and open to the mall, the venue is decorated using rustic, yet modern furnishings, with dim lighting and a charcoal colour scheme prevalent throughout. With music limited to smooth jazz and classic Arabic songs, Kalamangi provides a quaint hideaway from the hustle and bustle of the crowded shopping complex.
Finding a table was a rather easy task and we chose to be seated near the rear to avoid curious stares from passersby. After being handed the menu and introduced to our server, we were left to scour the multitude of selections available.
The menu is straightforward, with an abundance of mezzas, sandwiches and mains, along with pizzas, pastas, desserts and drinks. There are ample dishes available for any appetite, ranging from a shanklish appetizer platter (12LE), metabel (12LE), and vine leaves (17LE) to chicken fattah (34LE), mozza fattah (48LE), and a gourmet dish of lamb with mint sauce (75LE).
We decided on one taboula salad (14LE) and a Samosul cocktail (20LE) to start. Though we had also wanted spinach soup, we were informed that it was currently unavailable by a very apologetic chef.
Delivered alongside a basket of incredibly fresh bread rolls and a dipping plate filled with a savoury mixture of olive oil, zaatar, sesame seeds and coriander, the taboula came in a lettuce leaf bowl and was strangely sweet. Arriving in a tall cocktail glass, the Samosul was a thick blend of mango juice and strawberry ice cream that made for a refreshing accompaniment to the bread and taboula.
For a main course, we selected a manoucheh platter, with the meat marinated in grenadine sauce (28LE). Sliced like a pizza, the dough was deliciously crunchy whilst the meat topping surpassed our expectations. With a kick of chilli and a complimentary sweetness, the sauce was neither too runny nor overpowering, whilst the meat was well cooked and moist.
Next, we ended our meal with a Kalamangi crepe (30LE) and an After 8 Latte (18LE). The decadent dessert was presented as a square layering of crepe, with a melted mozzarella filling, spread with melted Kinder chocolate and drizzled with chocolate fudge. Full of surprises, the mozzarella balanced out the molten chocolate, adding a satisfyingly gooey texture to the well-cooked crepe. On the other hand, the After 8 Latte was advertised as espresso layered with milk, mint and blue syrup, but we could neither taste the mint, nor the espresso.
Kalmangi doesn't delve too deeply into sophisticated cuisine, but provides some impressive surprises with a quality that is well worth the price tag.