Koy Lounge & Restaurant: One of the Better Dining Options at the Platform in Maadi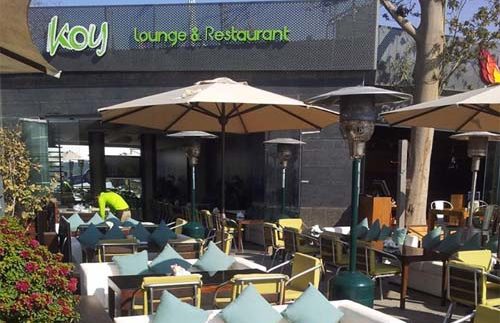 When it comes to dining in Cairo, a good location can make the difference. So many restaurants offer the same cuisine with minor twists, but, even then, when combined with good service and a great view, everything falls into place.
Expanding from their Mohandiseen branch, Koy Lounge & Restaurant has opened up at the Platform in Maadi. With a pleasant grey, white and lime colour scheme, Koy offers main courses, salads, appetizers, pastas and pizzas alongside sushi.
Our waiter quickly seated us and handed us the regular menu and sushi menu. We opted for a full portion of Dynamite Mix (79LE) – shrimp tempura with salmon and cream cheese – and a half portion of Crispy Rolls (45LE); shrimp tempura with avocados topped with Terudo sauce.
When it comes to sushi, it's all about how fresh the ingredients are, and while the shrimp and salmon were indeed fresh-tasting, the seaweed wrap was unfortunately a little too chewy. The Crispy Rolls, wrapped in crispy rice, faced a similar problem, with too little crisp than you would expect on a 'crispy' roll.
Moving onto the main courses, we opted for a Koy Fillet (100LE); beef fillet on a bed of arugula, parmesan cheese and balsamic sauce, cooked mediu,-well, and a Beef Mushroom (96LE) a beef fillet with fresh mushrooms cooked medium-rare.
The Koy Fillet managed to retain a lot of moisture despite its medium-well cooking, the parmesan cheese and balsamic vinegar combined to create a tasty mix but there was simply too much arugula served. The fillet was served with a side of crunchy French fries and well-seasoned sautéed vegetables.
The Beef Mushroom fillet, on the other hand, was spectacular. Cooked exactly to medium-rare, which always gets major points in Egypt, and the simple combination of the meat gravy and mushrooms, the dish was a real treat. Served with the same sautéed vegetables and a portion of white rice, it's a dish worth coming back for.
With a great location, combined with pleasant and fast service, Koy is one of the best dining options at the Platform. Plus, now is a great time to go; it's nice and breezy in the day with a spectacular view of the Nile, and not too cold at night.