La Palmeraie: Ramadan Fetar Done the Moroccan Way at Sofitel Cairo El Gezirah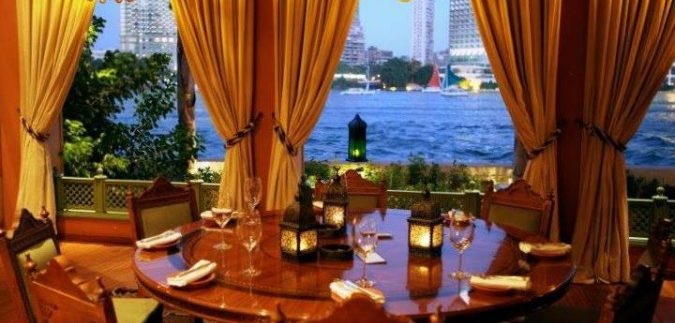 Despite the increasing variety found across the Cairo dining scene, you can count the number of Moroccan restaurants in the city on one hand – one of which is Sofitel Cairo El Gezirah's La Palmeraie.
Previous Cairo 360 reviews have spoken highly of La Palmeraie's food – but how would the Nile-side restaurant cope with the rigours of Ramadan?
For fetar, La Palmeraie offers a set menu at 240LE++, consisting of a Ramadan drink, Harira soup, a spread of salads and mezzas, a main course and, of course, a dessert.
As with most, if not all, restaurants offering fetar this Ramadan, reservations are a must, as the restaurant reverts to serving its regular a la carte menu from 8PM onwards.
Arriving early to enjoy the outside seating areas incredible view of the Nile, we were surprised to find staff seemingly underwhelmed, to the point where they were bickering with each other. Granted, we had arrived much earlier than any other guests, but it immediately made for an uncomfortable atmosphere. Nevertheless, the view and the greenery lining the bank of the hotel's walkway, is a perfect remedy from the usual hustle and bustle of Cairo.
A good fifteen minutes before the call to prayer, water, Ramadan drinks and small servings of dates were served, quickly followed by a bread basket, salads and mezzas. Keep in mind, however, that you will be charged for the water outside of the set menu price.
When the call for prayer finally rang out, the soups were served nice and hot. Unfortunately, the classic Moroccan dish was rather underwhelming; the lentils were overcooked and, overall, the soup lacked flavour despite the many vegetables in it.
There were no such problems, however, with the salads and mezzas. Featuring beetroot, potato and eggplant salads, amongst, others, everything tasted even better than it looked. Everything was perfectly seasoned, surprisingly light and appropriate in portion – unlike many restaurants in Ramadan who take a 'more is better' approach during Ramadan.
Main course options are limited; a chicken tajin is offered, with either couscous or rice. Coming to the table still bubbling, the tajin consisted of three pieces of chicken on the bone – which was incredibly tender. The sauce itself was full of flavour, though there were a little to much green olives used which, at times, made things a little bitter. The couscous, meanwhile, was outstanding; light, rich and a perfect foil for the tangy sauce.
After the mains, many of La Palmeraie's patrons shift their evening to the outside are for shisha and tea. We were very promptly served a selection of Oriental sweets for dessert, which included konafa with mixed nuts and atayef amongst others. Surprisingly, the kind of sickly sweetness associated with these types of desserts was kept at a pleasing minimum, making everything feel light. We were also served some excellent, aromatic Moroccan tea with mint.
As with most of Sofitel Cairo El Gezirah's restaurants, dining at La Palmeraie is an experience for all the senses. Despite a few of the dishes failing to reaching the high expectations it sets for itself all year round – and the restaurant's close proximity to the Nile allowing boats to pass close by and interrupt the atmosphere with blasts of loud shaabi music – you certainly won't leave disappointed or hungry.