La Pizza Alforno: Solid Pizzeria at Tivoli Dome, Sheikh Zayed
Tivoli Dome, El-Bostan Street,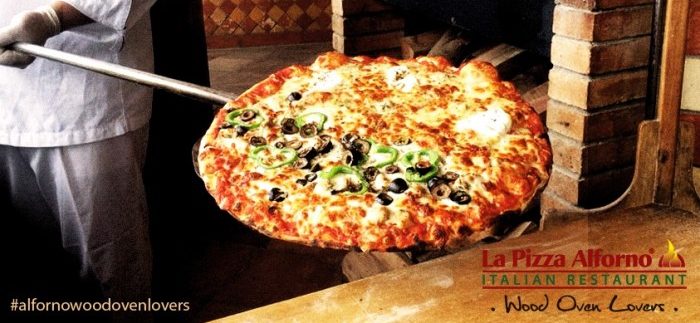 Located in Sheikh Zayed's Tivoli Dome, La Pizza Alforno is another Cairo restaurant claiming to offer pizza at its most authentic. One of the other, slightly peculiar, reasons for the restaurant's increasing popularity is the novel half-moon shaped pizza on offer.
Bringing Italian tradition to Tivoli Dome, Alforno's wooden chairs, wood-fired oven and stereotypically Italian, red and white tablecloths bring an air of authenticity to the place. While the venue is split into an outdoor and an indoor section, the indoor area seems a little tight in space. Taking precedence over seating, the wood-fired oven and pizza bar are placed proudly in the centre of the restaurant.
Despite directly overlooking the street, the outdoor area is much more spacious, and being located far from all the other cramped cafes, the restaurant benefits from a secluded, private ambience that you rarely get at these types of strip-mall-food-courts.
Our meal begun in pleasant style, when we were served a complimentary dish; three small slices of garlic bread, topped off with olive oil. Alongside the bread came two different dips – tuna and mayonnaise paste, and olive paste mixed with anchovies. Although this kept us busy while we waited for our appetiser, the traditionally salty olive paste and anchovies dip was just that little too bit salty.
We began our meal with the Insalata Di Racula (39LE); a mixture of green leaves, apples, walnuts and raspberry lime dressing. The Di Racula was simple and small in portion, making for a light and basic starter, before moving on to the main course.
As expected from a restaurant claiming to be authentically Italian, Alforno's menu offers a variety of pizzas and pastas. We ordered the Alfredo Con Polo pasta (46LE) and the half-moon Funghi pizza (49LE). The pizza was immediately favoured over the pasta; while the Con Polo's creamy mushroom sauce was lighter than most white sauces, the chicken was dry and over cooked.
On the other hand, the uniquely shaped half-moon Funghi pizza was crisp, boasted just the right amount and blend of cheese and a rich, homemade tomato sauce, all topped off with mushroom and infused with oregano.
While the dessert menu was full of inviting options, we decided to go for the Focaccia Alla Nutella (38LE). Baked with the same pizza dough and covered in Nutella chocolate, the simple, sweet dish was perfectly balanced in flavour thanks to a sensibly modest use of the rich chocolate spread.
Though the food was far from spectacular, La Pizza Alforno offer a creative, if superfluous, twist to their pizzas, complete with original homemade flavours in an authentic pizzeria atmosphere.