Le Deck: Exquisite Food & Spectacular Views at Sofitel El Gezirah
Sofitel El Gezirah Cairo Hotel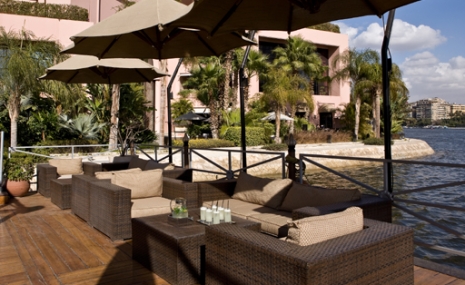 With incredible Nile Views, Le Deck at the Sofitel in Zamalek is one of the more sophisticated dining spots in Cairo. Behind the handsome hotel buildings and through the well-groomed gardens, Le Deck floats elegantly on the Nile. After leaving dry land and crossing the floating bridge, we were greeted by a courteous waiter who showed us to our large, comfortable deck chairs.
When we asked to move because we were between shisha smokers on either side, no alternative seating was offered as all the other tables were empty but reserved and we were left breathing in fruity, second hand shisha smoke.
Le Deck gives it's customers a little taste of culture and is catered for by
El Kebabgy
, a barbeque and oriental restaurant established in 1985 and named after a traditional Egyptian kebab maker. Surprisingly, there is no drinks menu, leading us to order off the top of our heads; one refreshing lemon juice (22LE) and a canned Sprite (18LE). We also had a large bottle of water to share (25LE). We then put our trust in the food menu, and ordered an assorted cold mezzah platter (40LE) and a more predictable cheese sambousak to start (18LE). For our main meal, we went for an Egyptian lamb fattah (95LE) and, to experience on of Le Deck's famous table barbeques, a shish tawouk (70LE).
El Kebabgy
has it's very own, on site, traditional bread oven and the bowl of balady bread delivered to our table was baked to absolute perfection; soft, warm and not in the slightest bit overdone. The assorted mezzah turned out to be several smooth and deliciously creamy dips including hummus, baba ghanough (aubergine with tahina) and a cheese and paprika dip. Our favourite was the sweet baba ghanough, as, in our experience, it is often slightly too bitter to enjoy. There were also two fresh and herby salads; one crisp fattoush, and a light, tomato and onion mixture.
Retracting our earlier assumption, the sambousak turned out to be anything but predictable. The small, shell-shaped parcels were fresh and soft, filled with a delicious but subtle melted cheese and mint combo.
Having to exercise some serious self-control over our starters, we moved on to our mains. An impressive, shiny gold, portable barbeque was placed on our table and continued to grill the outside of our chicken kebabs. As unique and exciting as this was, we should have been a little more cautious not to leave them on for too long as one of the kebabs turned out to be more char-grilled than golden. Despite our momentary lapse of common sense, the shish tawouk was relishable, succulent and seasoned brilliantly. As for the lamb, a colossal amount of meat was served, on the bone, dominating the bowl of rice underneath it. The meat was juicy and tender without a hint of dryness, although we still felt there was a stingy serving of the scrumptious tomato sauce on the fluffy white rice.
For dessert, we ordered a traditional Om Aly (25LE), which was incredibly appeasing. As soon as it arrived, we knew from the pretty, golden brown top, it was going to be good. The small ramekin dish was lined with bread, filled with sweet milk and pieces of pistachio, making for a perfect end to an excellent meal.
Our compliments go out to the chef at
El Kebabgy
and we would recommend Le Deck for just about any finer occasion – unless, of course, anyone in the party gets sea sick, it would then be advisable to eat the same remarkable food, inside the hotel.