Manhattan Burger: American Diner-Sized Burgers in New Cairo
Inside Oil Libya Gas Station, Road 90 North, Fifth Settlement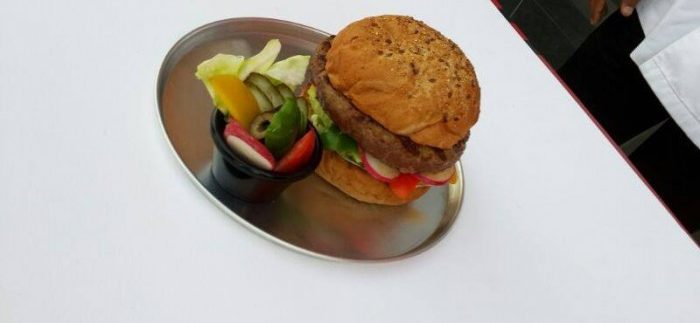 With so many shops and restaurants Cairo, it's often a relief to venture out to the less populated areas for a breath of fresh air. Much like the expansion of real estate into the vast spaces of New Cairo, there's an equally large expansion of malls, food courts and shops in Fifth Settlement, transforming Road 90 into the bustling and vibrant heart of a new city.
We visited a small food court inside the Oil Libya gas station on the North Road 90, parallel to the main Road 90; this mini-mall has two restaurants, a café and a supermarket. We visited one of the two restaurants, Manhattan Burger; a small American-style diner that specialises in – you guessed it – burgers.
The restaurant is small, with only one table for seating and the rest outside in a small courtyard. The simple seating arrangement very much encourages you to eat fast and go – after all, you are sitting in a gas station.
Aside from the burgers wrapped in tortilla and the crispy burger in a fried calzone, everything else is served in a bun.
From the appetiser options, we opted for a Manhattan Mix (45 LE); a spread of fried chicken nuggets, stringy mozzarella sticks and crispy onion rings served with barbecue sauce and mayonnaise, all covered in a layer of arugula.
As our mains, we chose the 250g cold cuts burger, complete with a plentiful portion of turkey and Emmental cheese (42.5 LE), served with a small plate of pickles. The meal can be made a combo by adding 15 LE. The meat patty was thick and tasty, although there was nothing exceptional about it. Although a little pricey for what it was, the meal was both filling and satisfying.
We also went for the apple burger (39.50LE) topped with slices of caramelised green apples and blue cheese. Similarly to our first burger, the meat patty was large but decidedly average. The apples were fresh and satisfyingly sweet, whilst the blue cheese wasn't overpowering.
For dessert, the menu had two frozen yoghurt options, costing 20 LE and 25 LE with three toppings, but unfortunately the yoghurt machine wasn't operational at the time of our visit.
We hope Manhattan Burger make additions to their menu soon, add more tables inside or heaters outside, and perhaps a toilet or even just a sink to wash up. However, our experience at Manhattan Burger was a an overall inoffensive one.