Mirai: Exotic & Sophisticated Asian Restaurant in Zamalek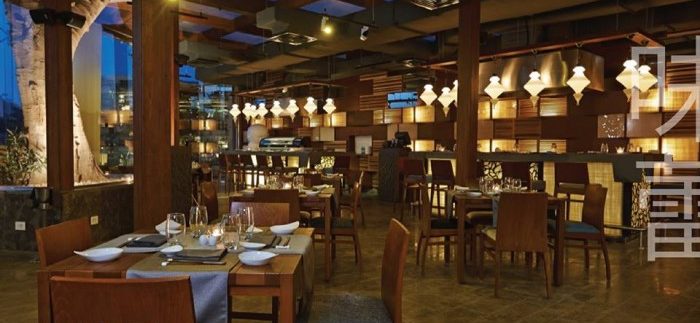 Aside from the city's international hotels, sophisticated Cairo restaurants are often hard to come by. Two possible exceptions are handily located beside each other in Zamalek; sister venues, Sequoia and Left Bank.
The removal of Mori Sushi from Sequoia, some months ago, signalled the owners' intent to introduce their own Asian restaurant, Mirai.
Wedged in between Sequoia and Left Bank, Mirai strives to provide a sophisticated, Asian dining experience. With an all glass front and dim lighting, the restaurant oozes a stylishly chic, almost romantic, vibe. The decor and attention to detail are impressive, with wood accents and attractive light fixtures transporting diners to a more exotic location.
Upon arrival, we were given the choice between a long, high table, to watch the teppanyaki chefs, a normal dining table, or a cosy booth. Being one of just a few parties, we were also afforded the option of moving around for different courses; sitting in a line for the entirety seemed a little un-intimate for our dinner date.
Hastily handed to us, the menu is a unique, little black book that explores the restaurant's dishes in detail. Although the concept is fairly cute, flicking through the detailed menu became an unnecessarily confusing feat, particularly with their wide selection of appetisers, salads, seafood, chicken and beef specialties, sushi options and copious amounts of hot, cold and alcoholic drinks. An additional teppanyaki menu began at 180LE for a selection of grilled beef cuts and chicken thighs.
As a welcome gesture, we were each served a small cup of traditional, subtle-tasting, lemongrass tea and a warm towel for our hands. To drink, we shared a bottle of white, chilled, Omar Khayyam wine (170LE), which was constantly topped up, thanks to the perfectly attentive waiting staff.
After asking recommendations from our waiter, and eliminating the long list of unavailable dishes, we opted for a Tom Ka Kai (30LE) – chicken and coconut milk soup – and an extra spicy Miso soup (30LE). Unfortunately, we ended up with two Miso soups, and one extra spicy Tom Ka Kai. Resigning to eat the extra Miso soup anyway, and despite it being served at scolding temperature, it was a pleasant broth, filled with small chunks of tofu and herbs. Disappointingly, the chicken soup's flavour was overpowered by the almost intolerable level of spices.
Our appetisers fared better; the shrimp konafa (80LE) was both generous in portion and deliciously crispy, as were the well-packed, Pad Thai spring rolls (45LE). Particularly saddened about the unavailability of chicken dumplings (40LE) and the Edamame (60LE), we substituted with Kai and Neau Satay (65LE); thin skewers of unremarkable, pattied chicken and beef, served alongside a flavourful peanut sauce.
For our main dishes, we ordered sweet and sour chicken (70LE) with steamed rice (12LE), and a sashimi and maki (185LE) set-selection to share – 15 slices of assorted sashimi, 3 pieces of shake maki, 4 pieces of crispy tempura rolls, 3 pieces of tekka maki and 4 pieces of california rolls.
The sweet and sour chicken was sweet but scrumptious, complete with pineapple rings and cherry tomatoes, although a little more chicken wouldn't have gone amiss. The sushi platter was an impressive spread, beautifully presented with all the expected trimmings, and extra caviar. Notably, the tuna and salmon sashimi were of high quality, whilst our favourite combination of flavours came from the California and crispy tempura rolls, although the latter should have been a little crispier. Both the shake and tekka maki were a little on the small side, but were delectable nonetheless.
For dessert, our first choice of fried banana (28LE) was also unavailable, so we went for two portions of fabulously creamy crème brulee, one of which wasn't quite set. Although we ordered a single espresso (22LE), we were afforded a double, whilst our peppermint tea (20LE) was served in a glass teapot, with a candle underneath to keep it warm, akin to a hot plate.
Despite the patchy availability of the menu items, the refined, urbane atmosphere, eager-to-please waiting staff and several polished delicacies, makes Mirai a wonderful addition to its gorgeous Nile-side location.