Nile Bukhara: Waning Indian Restaurant in Maadi
43 Misr Helwan Agriculture Rd.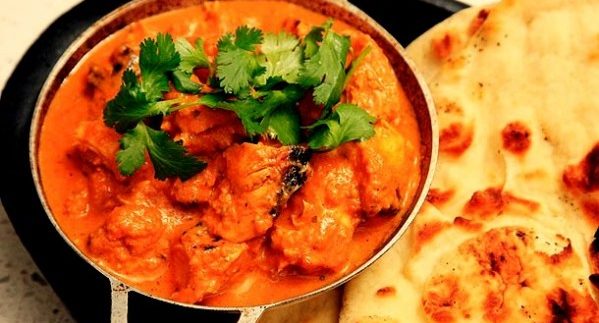 Having been around for over twenty years, what Nile Bukhara has achieved is no easy task. Our previous reviews of the restaurant were favourable, but a variety of Indian restaurants have emerged recently and we were curious to see how they all compared.
Located near the Total Gas Station by the Maadi Entrance from the Cornich, Nile Bukhara boasts a slightly over-done interior of wood fixtures and dim lighting, complimented with sitar music. It's a bit much and the wooden slab menus are further proof of this, but then again, Indian restaurants in Cairo have never scored particularly well in terms of décor.
Realising that little had changed with the interior, we shifted our attentions to the menus. We ordered a Vegetable Samosa (12LE) from the starters, the Murgh Makhani (55LE), the Chicken Tikka Masala (55LE), Rogni Naan (11LE), Pudina Paratha (11LE) and Steamed Basmati Rice (15LE).
The Vegetable Samosa, savoury pastries stuffed with vegetables, were served first and were accompanied with a small yoghurt and mint dip and pickled onions. The Samosa's were perfectly crispy on the outside with a nice vegetable mush on the inside.
Now, our first review of Nile Bukhara raved about the Murgh Makhani — also known as Butter Chicken. So as we waited in anticipation, and folded out the napkin into a bib, we spotted our waiter swiftly manoeuvring through the kitchen and out to us with our tray.
Served in copper bowls, the two curries looked completely and utterly indistinguishable. The Murgh Makhani is described on the menu as chicken in a tomato, butter and cream soup, but the seriously intense tomato flavour dominated all and would have been better suited to pasta. To add insult to injury, the chicken, although cooked well, was very scarce.
The Tikka Masala, although less intense, wasn't creamy and had no discerning flavour – essentially, it was a red soup with green peppers floating in it and the same lack of chicken.
The Rogni Naan and Pudina Paratha, both kinds of bread, one with butter and garlic and the other butter and mint, were both disappointingly average, and so was the Basmati Rice. Any and all combinations were attempted but none really stood out.
Maybe it was the reputation that was over-hyped, or this was a one-off day, but we've have had much better Indian food right here in Cairo at the same prices or even less.