Peking: Simple, Standard Chinese Cuisine in Heliopolis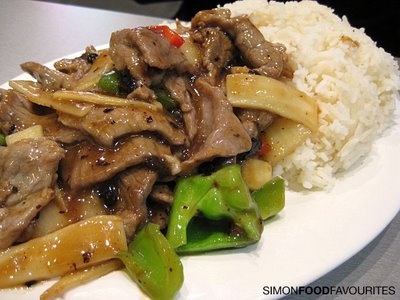 One misconception amongst Cairenes that
needs to be dispelled is this idea that all Chinese restaurants are the same.
There's such a thing as high-end Chinese cuisine, and there's a difference
between that and Chinese takeaway. Peking, a popular Chinese restaurant chain
in Cairo, leans more towards the former.
Peking is located on the quiet Othman Bin
Afaan Street close to Triumph Square in Heliopolis. The red lights, traditional
Chinese hut exterior and replica Chinese antique plates displayed in casing
lend interest to the otherwise unremarkable street.
We were surprised that during our midweek
visit, the restaurant was packed. Granted, the space isn't particularly big and
the tables are in close proximity to one another. The tables are so close to
each other in fact, that we knew what everyone around us was ordering. Nonetheless,
the simple lighting, and soft jazz and blues music in the background make for a
rather quaint ambiance.
The menu is extensive, and features
everything you'd expect from any decent Chinese restaurant, with options
covering all the Chinese staples of beef, chicken, fish, shrimp, duck and
vegetable dishes.
For our starters, we went for the crispy
shrimp (48LE), which was served with two dipping sauces: soy and sweet and
sour. Although the dish was big enough to eat as a main, the shrimp didn't
taste particularly fresh.
We
then tried the beef and mushroom in soy sauce (38LE), whose strength lay in the
combination of flavours that the mushroom and soy sauce created. We also tried
a plate of noodles with shrimp, chicken and vegetables (28LE). Unfortunately,
the pieces of chicken and shrimp were scarce, and the noodles themselves were
pretty flavourless. Nevertheless, it tasted a bit better with some of the sauce
from the beef dish.
Of the restaurant's special dishes, we also
tried the delicious high-noon chicken (38LE); strips of chicken with sweet
corn, tomato and pepper served on rice.
Dishes generally range between 23LE and 52LE,
while soups cost between 9LE to 15LE.
The drinks menu offers a range of fresh
juices and mocktails as well as coffee, tea and alcoholic drinks, but the
restaurant doesn't offer any desserts. Service is swift and professional, and
the staff is happy to explain and recommend dishes.
As a restaurant, Peking is suitable for an
evening out and for families. It's the little touches in the food and the
surroundings that create a sense of authenticity and will have you coming back.