Pizzinia: Delivery-Only Pizzas & Pasta in Maadi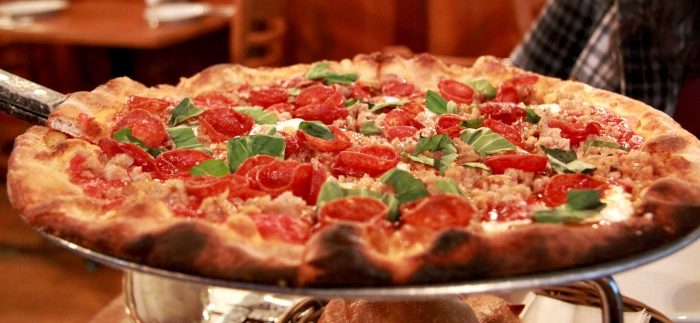 Despite Egypt's maniacal love for pizza, it's still – along with many other Italian specialities – one of the most consistently mistreated dishes amongst Cairo restaurants. In fairness, though, the last few years has seen a rise in pizza specialists – Pizza Mia, Vinny's Pizzeria, et al – that have tried valiantly, with wavering success, to bring authenticity to it.
The latest to try its hand at the pizza game is delivery-only Pizzinia. After stumbling across its modest, and slightly crude, Facebook page, perusing the menus revealed that the Maadi-based kitchen also churns out traditional pastas as well as some unusual and acutely non-Italian items like Chicken-Shrimp Cajun and Mexican Chicken pastas.
The pizzas come in three sizes; we opted for a Large BBQ Chicken Pizza (40LE), as well as a Chicken Alfredo Pasta (27LE). We were told the food would arrive in twenty minutes – a rather ambitious promise by any standard. As expected, it didn't arrive in twenty minutes, but thirty – which in fairness is still pretty fast.
The food arrived very neatly wrapped and in practical packaging. The pasta was served in a compartmented box that has separate areas for the pasta, extra sauce and pieces of garlic bread, which comes as standard with all pasta orders.
The Chicken Alfredo Pasta, topped with slices of chicken breast, parmesan cheese, mushrooms and cream sauce, was quite delicious. The portion of chicken was generous, seasoned perfectly and cooked well, while the amount of cheese was proportionate to the rest of the food. Our only problem was the sauce was a bit scarce, as well as being thin and watery.
The BBQ Chicken Pizza, topped with chicken, bell peppers, olives, mozzarella cheese, BBQ sauce and a special Pizzinia marinara sauce, tasted every bit as good as it looked. With an authentic, thin crust and a consistent layer of delicious, molten cheese, the combination of flavours was a simple one, but a satisfying one nonetheless.
While the very notion of BBQ Chicken leans more towards American-style rather than authentic Italian, Pizzinia can still lay claim to making the misleadingly simple dough-sauce-cheese combo that is pizza. The prices are pretty reasonable, the delivery time is fast and the staff are pleasant and efficient over the phone – they even called after the food was delivered to make sure was ok, welcoming our comment about the pasta sauce.