Pomodorino: Quiet Courtyard Restaurant in Maadi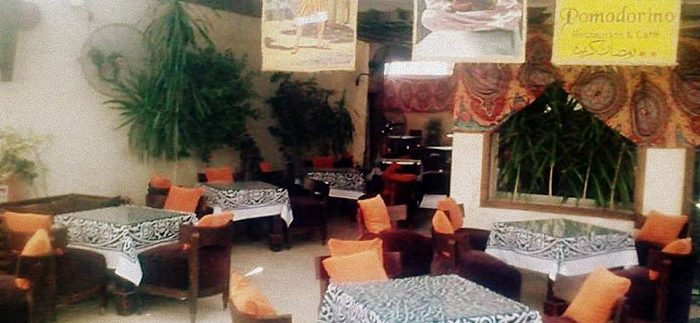 Among the plethora of restaurants in Cairo that carry the 'international cuisine' label, few stray outside what has become a tried and tested formula. One such case is combining decent food of decent portions with a comfortable outdoor courtyard – maybe even add a flat screen and some shisha.
Of this school is Pomodorino; a villa-sized restaurant opposite Fuddruckers in Maadi. Past the wooden gate is a courtyard occupied by wooden tables with glass tops and orange cushioned chairs. The walls are lined with plant pots and there are a few fans as well for a hot summer's day. Additionally, there's an air conditioned indoor area as well.
We were greeted at the gate by a pleasant waiter who asked about our seating preference; the weather's been good recently so we chose to sit outside. The waiter moved swiftly and placed menus on our table, told us his name and asked if we needed anything right away. When we asked for a minute, he gladly retreated.
We browsed the stereotypically extensive menu that featured all options from breakfast to desserts and drinks. We opted for a Venecian Salad (42.95LE) and a Pomodorino Beef Fillet (74.95LE).
During our wait we realised the venue was relatively quiet and populated by a mature crowd. If you're not a fan of younger, louder venues, a breezy and quiet breakfast or lunch here should be right up your alley. We imagine it's nothing like that during the screening of football matches, though, so keep that in mind.
Our food arrived within about thirty minutes. The Venecian Salad, which should feature grilled chicken, lettuce, pine nuts, raisins, avocado slices and 'orange sauce', in addition to garlic bread slice, was quite the let down. First, the ingredients sound delicious, but in the bowl none of the flavours mixed well. The pine was scarce, no raisins were seen, you could barely find avocadoes and, to our great disappointment, the orange sauce wasn't orange the fruit but rather orange the colour – that being the colour of Thousand Island dressing.
The namesake main course, the Pomodorino Beef Fillet, was ordered medium. We prefer medium rare, but we use medium as a middle ground if we're unsure if the chef knows what he's doing. It was served well-done, of course. The fillet was floating in mushroom gravy which is probably why it retained a tenderness, though it was still far too chewy. The sides of French fries and sautéed vegetables were forgettable.
All in all, this kind of restaurant relies on its set-up and location more than its food to keep it afloat. While the food wasn't terrible, it could certainly be better, but for many, it's more about a nice place to hang out and have a snack and a shisha rather than a full meal.