Pomodoro: Downtown Restaurant Makes More Changes
197 Tahrir St. (off Bab El Louk)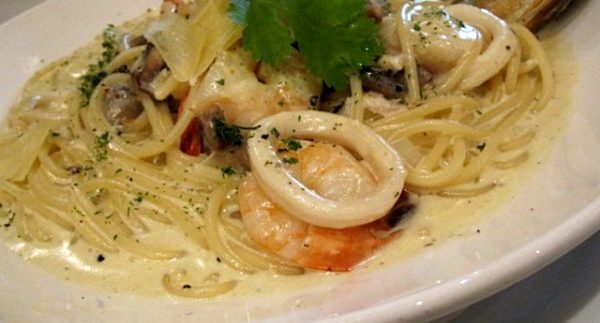 If there's one thing that the plethora of Egyptian restaurants in Cairo has taught us, is that Egyptian food is absolutely delicious, it's comforting and overall fantastic but sometimes it's good to try something a little out of the ordinary; they say an exhilarating change is good for the mind, the body and the soul. Pomodoro, which is the Italian word for tomato, is a small and cosy restaurant, recently renovated, in the centre of Downtown Cairo and its striking cuisine is tangy, juicy and full of flavour just as its name implies.
Specialising mainly in exotic seafood dishes, this restaurant reels in countless customers every evening, the menu is some what limited and it's all with pasta but it is that extraordinary plate of seafood that draws in all the people.
Though the venue is small in size, Pomodoro make up for this by dishing up overly generous portions of food, that one plate of thick spaghetti and assorted seafood in an aromatic sauce, being enough for two people with perfectly regular appetites. We could smell the food before we even entered the restaurant, which was a wonderful and extremely promising welcome; it succeeded in feeding our growing appetites as we waited for our order to arrive.
This is not a high-class restaurant so don't expect fast service. The stone walls and hard wooden chairs are as simple as they come, but it's the delectable, exquisite dishes they serve that make it so special. The prices are a little on the high side and have increased consistently over the years with a serving of Seafood Pasta starting from 50LE for the smallest dish increasing up to 120LE. Guests will be provided with a box of tissues as this meal involves picking apart whole shrimps, crabs and clams, so be prepared for greasy fingers.
Pomodoro is constantly improving with its frequent upgrades as it becomes more and more popular throughout Cairo. In the beginning the seating was limited but it has since expanded slightly with a choice of soft leather seating and wooden chairs and tables, however it is better to arrive early as they still fill up very fast during the evening.
It is not only seafood that is served here, they cater for meat lovers too with the choice of either minced beef or chicken pasta mixed with coloured peppers, mushrooms and courgettes, and for the vegetarians out there they provide a pasta and vegetable mixed dish.
We ordered the smallest choice at 50LE, a plate of spaghetti and seafood, which arrived after around twenty minutes. Despite our wait, the sight of the food was fascinating: a great mountain of spaghetti in a creamy sauce mixed with whole shrimps, crab and clams. Every ingredient complimented each other perfectly creating an overall delicious and satisfying meal.
A range of canned drinks and juices are also available to wash down all that food, the menu does not offer any dessert, but after eating at Pomodoro, guests will be sure to leave with a full stomach.