Seven Grains: Huge International Menu at Downtown Katameya Mall, New Cairo
Downtown Katameya Mall, Road 90, Fifth Settlement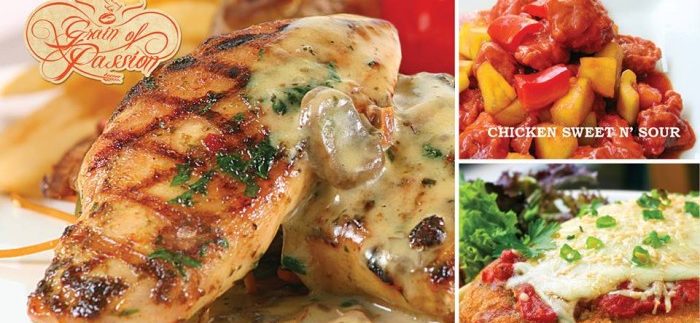 The majority of Cairo restaurants have a tough time standing out from the crowd, but restaurant and cafe, Seven Grains, immediately caught our eye in Downtown Katameya Mall in New Cairo with its name alone.
Located on the ground floor, the restaurant's small entrance is dimly lit, which shrouds its presence, somewhat, amongst the bigger, brasher, righter venues in the mall.
Inside, there are two different seating areas; indoors and outdoors. At the time of our visit, Seven Grains was very much in a festive mood, with 50s and 60s Christmas songs playing; with the addition of TV screens in every corner, the restaurant had a busy, bustling feel.
Severn Grains' menu covers a host of different dishes; steak, seafood and chicken mains, as well as pizzas, pastas, salads, soups and sandwiches.
The restaurant serves complimentary bruschetta, which made for a light and appetising start to the meal, while the All in One starter platter (85LE), as its name suggests, gives you a little bit of everything, including mozzarella sticks, onion rings and chicken tenders, with honey mustard and mayonnaise dips, out of which the chicken tenders were the highlight. But be warned – they're very spicy.
Of the seafood mains, the steak salmon with noodles (99LE) proved to be a decent choice. Though the salmon was overcooked, it was perfectly seasoned and tasted fresh, while the noodles were rich with herbs. The 'Creamy Chicken ' dish (70LE) comes as grilled chicken breasts in a mushroom and parmesan sauce, with sautéed vegetables and rice, and was quite the surprise. Full of deep and homely flavours, it's the kind of dish that you keep going back for more of. The Seven Toppings pizza (60LE) pretty much has everything but seafood on it and was cooked perfectly.
You can't visit Seven Grains without trying their chocolate fondant (35LE). By skill or by luck, it was perfectly cooked with a gooey centre, and the vanilla ice cream just made it all the better.
Washing down an overall pleasing meal, the lemon and mint juice and (non-alcoholic) apple cider (15LE each) capped off an generally pleasant dining experience, where the service is top-notch.