Shogun: Tasty Teppanyaki & Sushi at Intercontinental Citystars
Intercontinental Citystars Cairo Hotel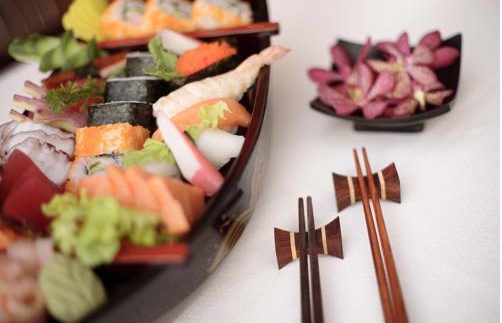 Though arguably one of the most popular cuisines around the Cairo restaurant scene, other than in a few hotel establishments in the city, Japanese and sushi restaurants rarely include itamaes – chefs trained to prepare meals in style. However, in the second level of the basement of the Intercontinental Citystars, Shogun strives to provide an authentic Japanese experience.
Aside from feeding their patrons, the Japanese hold faith that a cook must entertain; juggling ingredients and utensils in ninja-like fashion to leave diners in anticipation of the treats to come. This combined with the cuisine's ability to evoke all the possible flavours and senses, leaves no surprise as to why everyone keeps coming back for more.
Host to a unique ambience, Shogun gives an impression that it was once a warehouse, now converted into a high end diner, adorned with traditional oriental decorations. A focal point of the restaurant is the dazzling selection of exotic fish, swimming around organic coral in the fish tank at the centre of the space. Diners are given the choice between sitting at tables – for sushi only – or at one of the bars surrounding the teppanyaki griddles.
First, we opted for a serving of succulent Black Horse special rolls (120LE); delicious, semi-sweet eel-wrapped rolls stuffed with shrimp and rice. Soon after, we took pleasure in their all you can eat sushi (250LE) selection, served with miso soup and a glass of Aida rose wine. Unlike other sushi establishments, the restaurant also includes unlimited sashimi in their offer, which gives diners more room to enjoy their fine quality fish without the carbs.
Sushiphiles will be glad to know that the chefs at Shogun don't hold back with their cuts of fish; each piece of nigiri, rolls and even the sashimi feature a thick generous portion of sushi. Served at a perfect temperature – a little cooler than room – the sushi at Shogun is of the highest quality with bursting flavour and a tender texture. We were especially impressed with wild Norwegian salmon and the well-made rolls.
Under the umbrella of Ogosho Teppanyaki (395LE), we were served chunks of slipper lobster, a generous cut of fresh Norwegian salmon along with large scallops, cuts of beef, soup, salad and rice. Whilst the lobster was a little over-salted, the rest of the seafood was masterfully prepared with a succulent texture. We were impressed by the itamaes technique, although – rather amusingly – a minor miscalculation by the otherwise first-rate chef, left a smashed egg all over his griddle.
All beef served is Australian, which maintains a high reputation for its quality. Given the choice, we requested our meat medium and were most satisfied with its smoky flavour and juicy texture.
Undoubtedly, Shogun serves up delicious meals in an impressive setting. However, the aura of disorganisation amongst staff means that the high prices are difficult to justify – even for a hotel restaurant.