Souvlaki House: Tasty Greek Food in Al Rehab City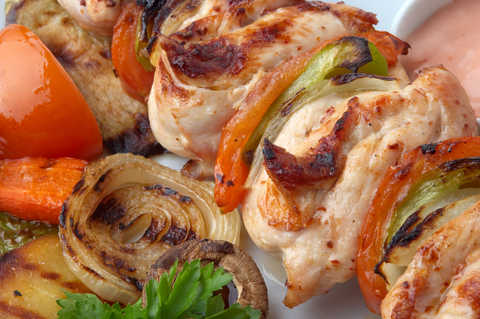 Souvlaki
House is a relatively new restaurant in Cairo's Al Rehab City. Disguised as a
fast food joint in Al Rehab's market, the restaurant offers a hefty menu of
pricey Mediterranean cuisine.
Souvlaki
is pretty much the Greek equivalent of shawerma. The meat or chicken might be
sliced a little thicker and seasoned differently; but it's all the same in
theory: thin crispy bread, lots of protein and vegetables with a healthy dose of
condiments.
The
actual restaurant looks all too much like a fast food joint with the barest of
tables and chairs coloured to match the restaurant's logo. There's also a huge
counter to order from; pretty much like the counters at McDonald's and Hardees.
Souvlaki
House provides you with an overwhelming menu full of options: souvlaki sandwiches, burgers with fries and a coke, and meals such as the
veal n' pepper sauce, to name a few.
We
opted for a hot soup as an appetiser. The chicken cream soup (14.95LE) wasn't
too thick, but it was definitely loaded with samna (ghee). Seasoned with pepper,
the soup was a little spicy with a sweet taste to it, but the chicken itself
was just souvlaki (or shawerma) sprinkled on top.
The
souvlaki grill (59.95LE) is definitely a meal to be a shared. A huge portion of
brown rice with diced almonds and raisins
is only a side to the enormous assortment of barbecued meat. The chicken was
tender, tasty and seasoned only with pepper. The veal was also tender and while
a little dry, it still tasted magnificent. However, the lamb barbecue was very
disappointing: the two huge chunks were cold and consisted mostly of bone and
fat, and the little meat that we could find was too chewy for our liking.
Chicken
pesto (29.95LE) is definitely an unorthodox order at a Greek restaurant, but we
felt adventurous. The chicken comes in souvlaki shreds on a bed of pasta
lathered with pesto sauce. Surprisingly, the pasta wasn't overcooked like it
usually is at many restaurants, and the pesto sauce was definitely one of the
tastier ones that we've sampled in Cairo.
Dessert
options are quite standard and unimaginative, with rice pudding, fruit salad
and jelly on the menu. We sampled the crème caramel (7.95LE), which was tasty
but didn't hold together too well and ended up rather messy.
While
not100% authentic, Souvlaki House offers a proper dinner or a quick sandwich
and fries to take away; and its food will tantalise your taste buds.