STRADA: Italian Restaurant at Four Seasons First Residence
Four Seasons Hotel Cairo at The First Residence, 35 Giza St.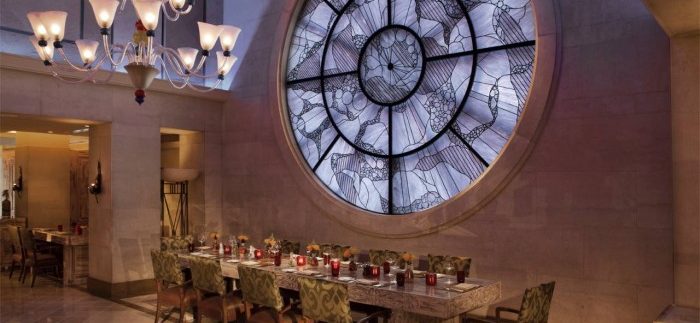 Home to some of the most unique bars and restaurants in Cairo, the Four Seasons First Residence has long been considered one of the best hotels in the city. Its latest culinary addition comes in the way of STRADA; a chic Italian restaurant that goes all out to deliver a fine dining experience.
Located on the third floor, STRADA is hidden behind a vintage wooden door, engraved with Tuscan designs. Boasting an impressive Nile view, the setting is chic, creating an undisturbed, sophisticated mood. The venue is wide and spacious, with several different seating arrangements; we were seated alongside the window at a round, modern wooden table, with refined leather chairs with patterned backsides.
Designed with an urban-Tuscan interior, the restaurant gives off a rich, deluxe ambience. While the bright yellow shade of the walls brightens up the restaurant, the massive circular centrepiece is an Italian, stained glass window, which floods the space in natural light.
The food menu offers a variety of refined Italian dishes, covering soups, risotto, pastas and pizzas, alongside a section for fish, and another for red and white meats. The wine menu was also vast, with a selection of local and imported wine included.
For our starters, the Caprese Di Bufala (80LE) was rather standard in taste, yet ideal in portion to start off a meal. Served on a round platter was six pieces of rubbery buffalo cheese, topped off with a slice of crisp tomato, some Zucchini Linguini and a dash of Parmesan.
Moving on to the main dishes, the Salmone Arrositio (170LE) – roasted salmon, coated with glazed fennel and lemon sauce, served alongside sautéed vegetables – was flawless. Maintaining the balance between being impeccably grilled and perfectly marinated, the salmon had an external thin layer of crust, whilst remaining soft and pink on the inside.
The Risotto Porcini (120LE) transpired to be a light creamy mushroom risotto with Parmesan cheese. The dish was a little on the small side, and the risotto itself seemed rather bland and undercooked. In spite of this, the creamy mushroom sauce was impressively light.
We ended our meal with a traditional Italian dessert, the Cassette Gelato (40LE). Served with two full scoops of ice cream, and mixed with ground nuts, dried fruits and chocolate, the gelato brought a refreshing end to our three-course meal.
Though as a whole dining experience, STRADA delivers what you'd expect from an international hotel chain; however, at the time of our visit, the lofty prices simply didn't justify the food served at the time of our visit.