Syriana: Easy Syrian Eats in Dokki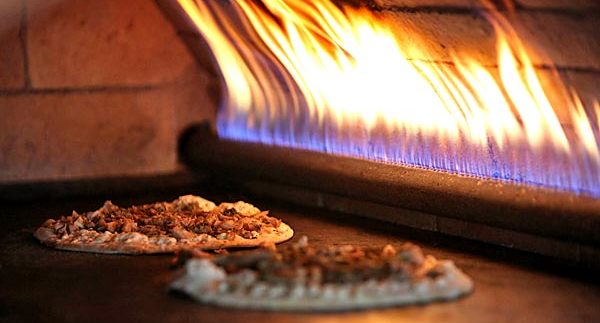 Capitalising on the popularity of Lebanese cuisine, Syrian restaurants in Cairo continue to pop-up – one of the latest to open is Syriana, located on Tahrir Street in Dokki.
As is typical of Syrian restaurants, the shawerma skillets and manakeesh oven sit at the entrance of the shop, while a cosy seating area is situated at the end of a short corridor. Unlike conventional local shawerma vendors in Cairo, Syriana's seating area resembles an international fast food franchise, with polished red table tops and black steel chairs.
Despite that, the paper menus are laden with comical spelling mistakes such as minagish (manakeesh) that can be ordered with 'Kirry Cheese' (6LE) or 'Yoghurt and Hony' (7LE). The shawrama is available in three sizes of sajj bread (4LE – 12LE), fatta (24LE – 25LE) and other varieties.
Syriana also serves a plethora of distinctly un-Syrian sandwiches including fajita (15LE), curry chicken (15LE), shrimp cocktail (17LE), fish fillet (15LE) and many more. Burgers are also available plain (8LE), with cheese (9LE) and with cheese and eggs (10LE), amongst other options. Any sandwiches can be made into combo meals – with fries and soda – for an extra 5LE.
We opted for one muhammara and cheese manoucheh (7LE) – served with ground pine nuts, oil, spices and a thick layer of mozzarella cheese – along with a large chicken shawerma (12LE) and a large tub of garlic dip (3LE).
In next to no time, we were hastily served the manoucheh first. While its portion was on the smaller side of average, it was suitable for its price; for only 7LE, we were enjoying some of the freshest pastry we've had in months. The dough was thick and fluffy, while the mozzarella blended perfectly with the muhammara and kept an easy-to-handle shape. A generous sprinkle of hot sauce, meanwhile, was a delightful addition.
Soon after, we were served the chicken shawerma and garlic dip. A long tube of traditional sajj bread had been generously stuffed with strips of marinated chicken, though it was decidedly average and was served a little closer to room temperature than it should have been. That disappointment was somewhat made up for by Syriana's garlic dip; made with yoghurt and not mayonnaise, as is commonly done in Cairo, it was the perfect blend of creaminess and bitterness.
Syriana joins the fast food circuit in an area that has been long dominated by the renowned Taza and El Omda restaurants. While its food may not be the best, Syriana offers basic Syrian dishes at attractively low prices.
Karim Hedaya
Very rude staff. They were making fun of Egyptians ordering. It was good when it opened but now very bad. I believe they got lazy and comfortable being here for a while. I will never come back here!
Write your review