The Brgr Truck: Still Good, but Pricier Than Ever

The last time we paid The Brgr Truck a visit was quite a long time ago (2016), and, we have to say we thoroughly enjoyed it. Accordingly, we decided to revisit this sliders master a visit, at its new and current location: Arkan Plaza. We did this with the intention of trying out the new Brgr Truck menu items. 
While the silver truck, the great packaging, and the seating area remained pretty much unchanged, the menu got a whole lot sweeter with the addition of a dessert section, and a bit scarier with the inclusion of increased prices. We opted for a Double Patties J Bomb (currently 75 LE, and previously 50 LE); Cheese Fries (currently 25 LE, and previously 15 LE); and a Single Patty Original Burger (50 LE).
Starting with the Double Patties J Bomb, the 2 thin – yet juicy – patties satisfied our craving for perfectly seasoned meat. Speaking of perfection, the cheese was ideally melted, the tomato and lettuce were fresh, the jalapeno added a pleasant kick of heat, and the soft bread did a phenomenal job at holding everything together. The Double Patties J Bomb's presentation and special sauce, however, did not meet this standard of perfection: the former was highly unappetizing, while the latter's presence went by unfelt.
Except for its single patty, and the absence of jalapeno peppers, the Single Patty Original Burger, was pretty similar to the Double Patties J Bomb, in terms of both ingredients and taste. We honestly felt, however, that a single patty was too thin to sustain the meaty taste, that one would expect from a burger sandwich. Indeed, the tomato overshadowed the patty's favor; as such, we don't think we'd go for this choice again.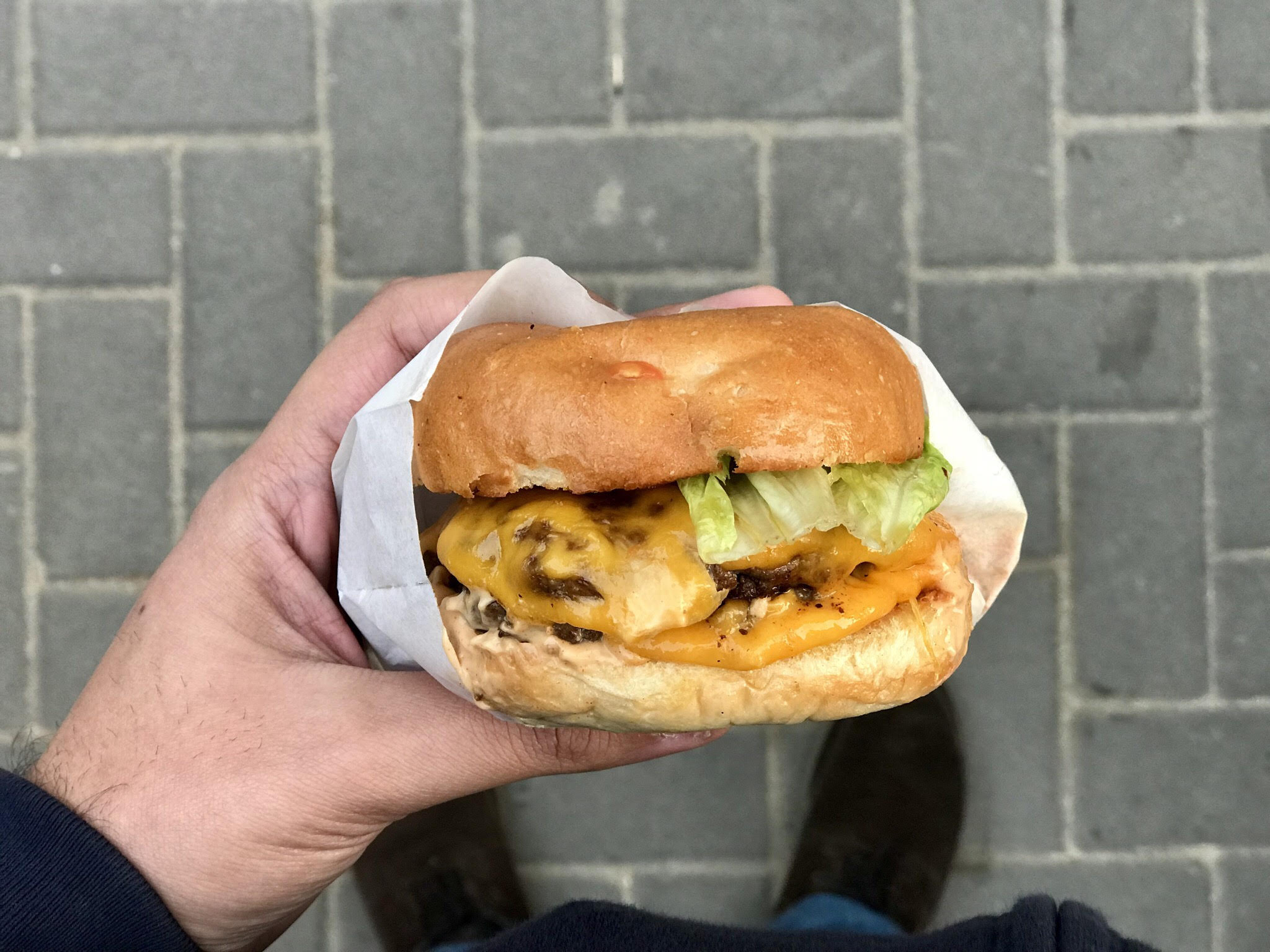 Meanwhile, the fries were well-prepared and perfectly salted. The cheese sauce was sadly extremely stiff, as a direct result of the cold weather. Consequently, it was very difficult to judge its taste. Again, we just want to emphasize the fact that this was not at all the kitchen's fault.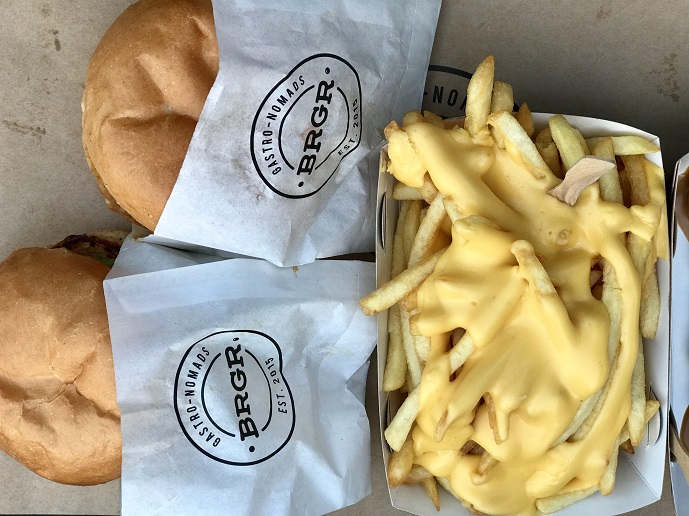 Moving on to dessert, The Brgr Truck offers ice cream (this was unavailable, during the time of our visit), as well as Mini Pancakes, topped with a choice of Nutella (30LE), or Lotus Spread (40LE). We opted for the Mini Pancakes topped with Lotus Spread. These mini pancakes were freshly made, extremely soft, and incredibly fluffy. The Mini Pancakes were topped off with the right amount of lotus spread (with all of the spread's sweet and buttery flavor); we say "right amount", as the spread did not overpower the pancakes' taste.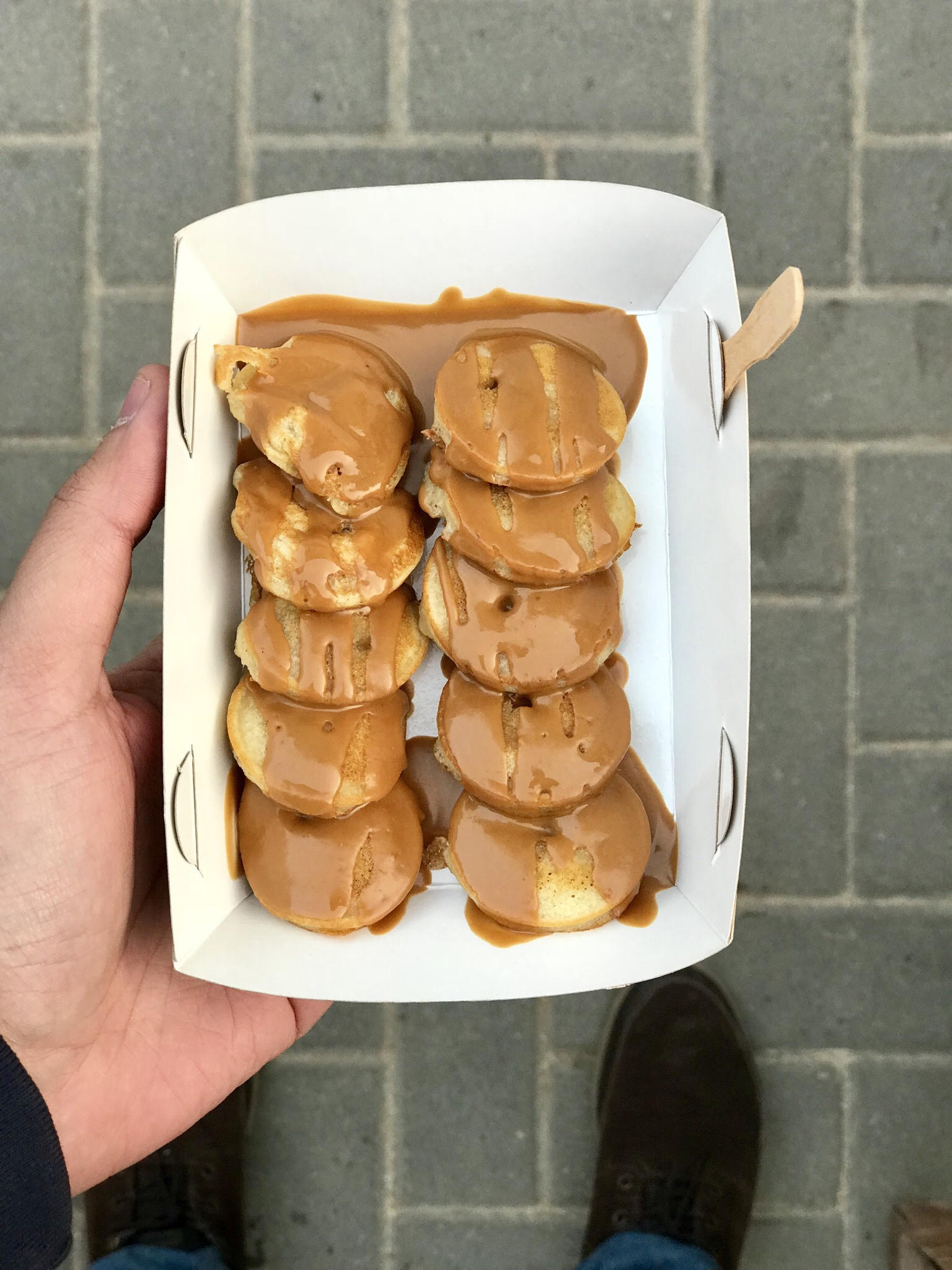 All in all, we left with mixed feelings. A part of us would love to have this meal to satisfy our fast-food cravings; another part, find that prices are much too high for the portions we were served. We appreciate the good quality and flavours, though.