The Master Chef: Self-Proclaimed Family-Style Restaurant in Mohandiseen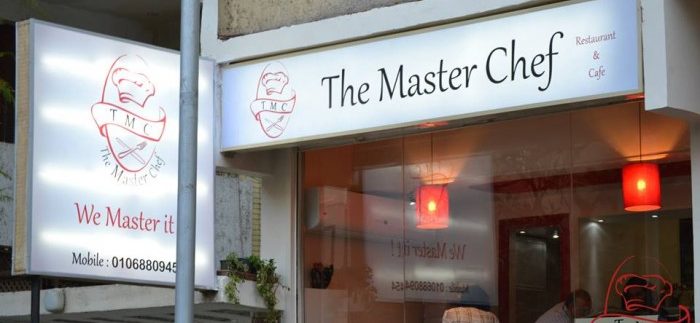 We all have our favourite restaurants in Cairo, but nothing gets us quite as excited as stumbling on the lesser known eateries. Mohandiseen has many a narrow road to get lost through and we happened upon the Master Chef by complete coincidence.
The exterior is simple but pretty, with glass facades and a staircase up to the restaurant surrounded with plant pots. The interior, like the exterior, is simple, using a white and black colour themed and red glass tables with, unfortunately, uncomfortable chairs. Though the aesthetics are in no way offensive, the restaurant's boasts of being a family-style restaurant isn't reflected in the decor.
We walked into the restaurant to find it completely empty with the exception of an elderly woman sitting whom we later found out was the owner. After a few minutes, and a couple of looks from under her glasses, she got up from behind the counter and called someone whose attire implied he was the chef. He handed us a menu full of breakfast options ranging between Foul and Falafel sandwiches (2.50LE) all manner of crepes (15 LE) and salads (20 LE).
We say 'implied' because of his utter surprise at seeing customers and being asked about the 'dish of the day', as well us having to point at the menu to make our orders. Needless to say, we expected it all to go downhill from there. This was made all the worse when we took our first sip of mango juice (10LE) and realised it was of the packaged, supermarket variety.
For main courses we opted for Sweet and Sour Chicken (35 LE) and Pepper Sauce Fillet (45 LE) and Chicken Cream Soup (12 LE).
To our surprise, however, the chicken cream soup (12LE) was delicious, rich and creamy with a hearty serving of chicken and mushrooms. Moving onto the mains, sweet and sour chicken (35LE) was also full of flavour thanks, though there was a distinct overdose of onions. The dish came with homemade fries, which were fresh and crispy, and sautéed vegetables which were cooked perfectly; neither mushy and overcooked nor crunchy and raw.
We also tried the pepper sauce fillet (45LE); while cut of meat was excellent, the preparation betrayed such a beautiful piece of beef. The meat was overly seasoned and marinated, while the pepper sauce had so much cinnamon that it became spicy, ultimately overpowering the taste of the meat. The dish was served with a white sauce pasta, which was creamy with a subtle hint of basil. Don't expect the chef to ask about the type of pasta you want; just be thankful you got to choose the sauce.
The dessert menu was rather bland and generic, offering items such as jelly (10 LE) and crème caramel (12 LE). The owner recommended we try a new dessert called the Master Cake (15 LE); a layer of crème caramel over a chocolate sponge cake. While it was flavourful and fresh, it was it was just far too sweet.
There's two ways to look at the Master Chef; you can either deem their food as wholesome and filling, or just rather unoriginal.