The Vegan Kitchen: Unique Dining Experience in Maadi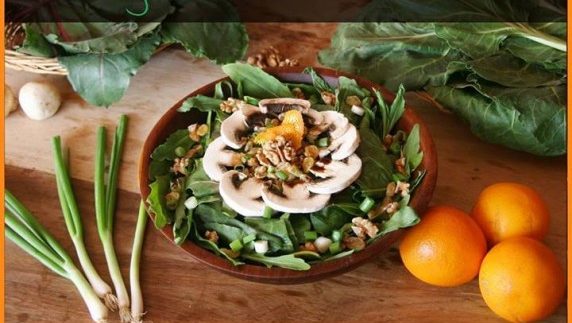 Striving to push the culture of dining in Cairo to new limits, the Vegan Kitchen is the first restaurant of the type to open in the capital, with strictly organic, gluten and animal free food.
It's a cosy small family business run by a young Cairene couple who are not only striving to slot vegan cuisine into the mainstream palate, but also to promote green environmental living.
The interior of the restaurant is lined with natural plaster and decorated with handcrafted furniture made out of recycled pallet wood; with a member of the Vegan Kitchen's team specialising in the design of ecological buildings, the tables and walls are adorned with plants to create what they call a 'living atmosphere', which keeps the air oxygenated and clean. It all comes together to foster a relaxing and calm ambience.
The Vegan Kitchen's menu is rife with traditional vegan favourites along with some recipes of their own creation.
From their range of appetisers, we found their guacamole (30LE), with a light texture and diced vegetables delicious, pleasantly spiked with a little extra onion. It tasted zesty and refreshing when enjoyed with the homemade oat chips that they were served with. Adding a vegan twist to the Japanese favourite, the maki rolls (30LE) were fresh and flavourful, made with avocado and cucumber, with carrot replacing the fish.
All of the salads in the restaurant are served in two sizes; small (20LE) and large (40LE). With a particular appreciation for arugula, we fell for the sweet mushroom salad, which, along with leafy greens, saw the inclusion of mushrooms, spring onions, raisins and walnuts, drenched in a pomegranate-orange dressing to die for. It's a combination of flavours that will tease every corner your palate, with an element of sweet and sour, tinged with zest of the arugula and bitterness of the fresh mushrooms.
While some may find the concept of raw pasta (30LE) to be somewhat off-putting, it's not what it seems. A large tub of uncooked zucchini strings, emulating spaghetti were topped with a thick layer of aromatic pesto sauce. Not only did the dish look fantastic, but it tasted delicious, with the pesto itself being one of the best we've tasted in Cairo.
Although eggplant is a tough ingredient to work with because of its tendency to absorb oil when fried, the Vegan Kitchen's eggplant ravioli (35LE) was perfect; small cuts of unpeeled eggplant are rolled around walnuts, adding a textural contrast, along with a zesty tomato and onion stuffing. The mushroom risotto (30LE) is also recommended, prepared with brown rice and cuts of fresh mushroom and served with fresh vegetables.
We couldn't help but try their lentil and mushroom burger (40LE), which was served alongside baked sweet potato wedges and homemade ketchup. The large patty was covered with vegetables in a gluten-free bun. The burger itself was full of flavour and cooked perfectly, with the contrasting sweetness of the potatoes making it a simple, delicious option for a quick bite.
Of their small dessert selection, the vegan version of tiramisu (25LE) relies on a crunchy base of nuts and dates, boasting delicious bittersweet flavour and a pleasing range of textures – a fittingly delicious ending to a surprising and spectacular culinary affair.
Don't look at the Vegan Kitchen as a gimmick; there are no pretentions here – just brilliantly executed food that is sure to satisfy vegans and carnivores alike.