ZENTRO: Find your Zen at New Asian Restaurant in Maadi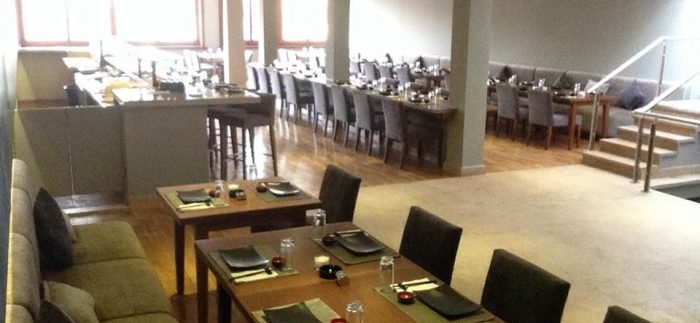 Asian food across restaurants in Cairo is quite haphazard at best. Ranging in prices, quantity and quality, it's hard to tell if a new restaurant is good, great or downright terrible. But every so often, a new restaurant rolls up into town and raises the bar for all its competitors.
Welcome to Zentro, where simplicity is the ultimate sophistication. Located in Maadi, a staircase takes you up into a large, well-lit grey room with imple wooden tables, paired with slightly more blue-grey cushion–padded chairs. Backlit art hangs down the length of the right wall and minimal accessories in black in the centre. The idea is no distractions, but we couldn't help but think it may be a little too bare.
Greeted by friendly waiters, we were shown in and handed our menus. Divided into Thai, Japanese, Chinese and Korean cuisines, the menus included sushi, rice, noodles, meat, poultry and seafood, as well as soups and salads.
From their drinks menu we opted for a Zentro Special Mocktail (32 LE) while we waited for our orders; a zesty infusion of orange, kiwi and lemongrass that was both refreshing and appetising.
As recommended by our waiter, we chose a Thai Appetiser Platter (60LE) made up of four skewers of Satay beef and Chicken, two Thai shrimp rolls and two Money Bags. The skewers were particularly tender, the Money Bags – wonton wrapped around a stuffing of vegetables – were perfectly stuffed and crunchy, though the shrimp rolls were rather bland in flavour.
Moving to the Japanese section of the menu, we opted for some sushi; half a portion of Dynamite Shrimp Rolls at 36LE (shrimp and salmon with dynamite sauce) and a half portion of Red Fire Dragon Rolls at 45LE (fried shrimp with avocado and cream cheese (45LE). The ingredients were fresh and complimented and in the grand scheme of things were well above average without being spectacular.
From the main courses, the honey plum chicken bites (58 LE) sirloin beef with green curry (72LE) stood out, with which we also ordered vegetable Chow Mein (36 LE) and vegetable fried rice (36 LE).
The honey plum chicken came as bite sized-boneless chicken pieces with honey, plums and sesame; a gorgeous combination of sweet, crisp and chewy. It went particularly well with the Chow Mein.
The sirloin beef with green curry comes in fives levels of spiciness. We opted for the second, believing it would be somewhat mild. But be warned; while the green curry sauce itself was mild in flavour, there are plenty of chopped red chilli pieces. The beef was tender and delicious but the green curry was rather heavy.
Together with the vegetable rice, which included chopped up black mushrooms, we must say were a weaker combination than the chicken and noodles. The fried rice, a common staple of Chinese cuisine, was less fried and more overcooked; losing what sets it apart from regular vegetable rice.
While for the most part, the food was of an excellent quality, we have to mention that the portions aren't exceptionally big, so don't be surprised if you don't feel stuffed after appetisers, sushi and a main course with noodles or rice.