Accessorize: Glitzy Accessories at Cairo Festival City Mall, New Cairo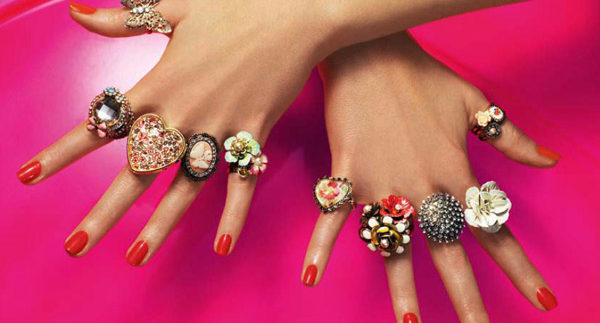 With statement jewellery and eye-catching accessories heading today's fashion, shopping in Cairo has become a more colourful expedition. Grouping all pretty things in one place, British brand Accessorize has opened up in New Cairo's largest shopping centre, Cairo Festival City Mall.
Sharing half it's shop space with sister-brand Monsoon, Accessorize is clearly visible on the third floor, with a sparkling window display of girly, must-have accessories. With so many gaudythings to look at, the displays can seem a little overwhelming, particularly as many products are not grouped together; for instance, scarves and handbags are spread out around the shop.
For the majority of our browsing, the shop assistant busied himself in other areas, leaving us to blissfully shop in peace.
Known for their quality, fashionable handbags, this store has a range of designs – both casual and smart – in different colours, shapes and sizes; a patch-work, beach-ready tote was priced at 300LE, a large snake-skin effect handbag was 430LE, whilst a range of party-perfect clutch bags begun at around 150LE.
Jewellery comes in a vast range of different designs, from casual, elegant and subtle, to statement, chunky pieces. A pack of nine pairs of everyday studs was priced at a reasonable 60LE, whilst a heavy, stocky silver necklace was retailing at 165LE. Bracelets and rings begin at around 100LE and come in designs to suit just about every taste – we even noticed a ring featuring a novelty moustache.
Hair accessories are also aplenty, including casual and dressy clips, grips, bun rings, flower pieces, head bands (40LE+) and hair ties (20LE+). We noticed a range of tasteful, 100% silk, floral scarves, alongside heavier ones. A long, grey and white, Aztec print scarf cost 195LE.
Other accessories range from jewelled notepads and pens, colourful phone cases, wallets, belts and a disappointing number of pumps.
At the far end of the shop, we noticed a sparse range of beach wear, including 'sensible' flipflops (85LE+), one oversized, coral t-shirt top (155LE), a cute white sundress (330LE), sunhats (155LE+) and just two different bikinis (250LE+). We were disappointed with the lack of items, but predict this range will expand as the weather warms up.
A jolly children's section offers a range of cute stationery, stickers and stamp sets (45LE). Girly handbags and fun, sparkly shoes are also available; a wicker handbag – made to look like a cat – was priced at 85LE.
Accessorize presents themselves as a one-stop shop for just about everything girly, and whilst it may not be the cheapest outlet in the city, the variation of options is second to none.