Al Haramlek: Locally-Made Luxury Home Products in Zamalek
Degla Center, Shop 10, 11 Hassan Sabry St.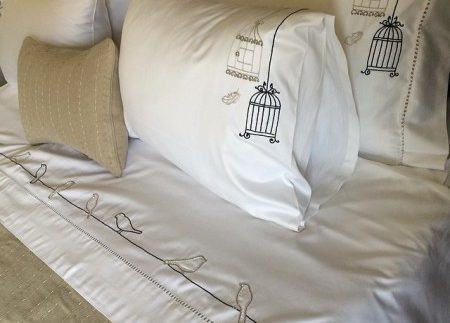 Over the last few years, a new appreciation of local craftsmanship has emerged, giving a new dimension to shopping in Cairo. Located on Zamalek's Hassan Sabry Street, on the ground floor of Degla Center, Al Haramlek offers locally made luxury home products.
While the shop itself is relatively small, its smooth, chic atmosphere and well-arranged products set an inviting, neat vibe that welcomes customers in.
A variety of products across for the bedroom, bathroom and dining room make up the bulk of Al Haramlek's stock, but with the summer season approaching, a few fun beach products are on display, too.
The products are commonly soft in texture, taking on earthy colours of beige, whites and creams with simple floral patterns and colourful beadwork. A set of two bedspreads with orange beaded patterns and two pillowcases (2300LE) stood out in particular.
Dining linens ranged in size, starting with the 250cmx250cm at around 15ooLE, 400cmx190cm at around 1750LE 170cmx170cm at around 800LE. All are simple, elegant in design and perfect for brightening up any dining room.
Offering a variety of bathroom towels as well as beach towels, a set of small guest towels with simple pattern work cost 154LE, a set of four bathroom towels 418LE, and a few colourful beach towels available in orange, blue and white (253LE).
Some cute beachwear items were also on display, including a funky, practical towel dress available in blue and orange (429LE), as well as colourful pseudo-galabeyas (336LE).
Every-day pouches for men and women range from 200LE and 300LE, depending on the size, including creamy linen pouches with basic designs, as well as translucent waterproof beach pouches.
For the little ones, a cosy bread spread set with pillowcases taking on warm colours range from 550LE to 594LE, as well as a cute kid's bathrobe at 286LE.
There are plenty of shops that successfully champion local materials and craftsmanship, but no shop translates that into truly high-quality, luxury products like Al Haramlek.