Converse: Chuck Taylor Finally Hits Cairo
122 El Thawra St., Next to Daniel Hechter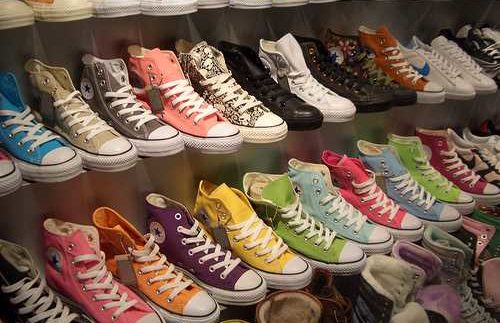 A staple in
many a wardrobe worldwide, from toddlers to senior citizens, Converse shoes may
have started out as the poor man's basketball shoe; but today it has established
itself as an iconic style symbol, and Egypt's urban fashion trends are no
exception. For those that treasure the name, you know how it goes: you refuse to
buy a new pair until the soles have been worn thin with holes, the laces are
frayed and they have literally become unwearable. Not to mention that shopping for a pair
in Cairo, until
now, has been nearly impossible.
When the moment
comes to purchase a new pair of your favourite kicks in Cairo, we've found the source: the very first
Converse shop has opened in the Capital and we couldn't be any happier! Located
on Thawra Street
in Heliopolis,
the tiny shop is easily missed, located below Daniel Hetcher and next door to
Max Mara.
The shop itself
is simple and according to this reviewer, it pretty much fits with the basic
concept of the Converse brand. The well organised and laid out design make the
shop accessible and hassle free, making Converse stand out from the many shoe shops in Cairo. Cubby holes
are filled with single pairs of Converse, while stream-lined wooden shelves
take care of the other shoes. With walls of graffiti and dainty black shaded
lamps suspended from the ceiling, the urbanite in you will definitely be
feeling it.
Chuck Taylor
All Stars are proudly displayed at the shop in both low- and high-top models.
Unique options range from the themed Dr. Suess style shoes for toddlers (325LE)
to a lovely jade-green high-top (350LE) for ladies. Other colours include pale
yellow (sale price: 250LE), purple and burgundy.
Aside from
the random sketch prints and your standard Jack Purcell's, one pair automatically
caught our eye; sending us into a dream-like trance. Black leather and black
soled, this special edition pair of All Stars comes with four thin leather
buckles across the top. Ultra hip and reeking of coolness, the pair will set
you back a hefty 899LE.
Other
accessories in the shop include a plaid bucket hat for 199LE as well as a few
belts. Now that we've got a shop solely dedicated to the Converse brand; look
no further when a new pair is calling your name.