Debenhams: British Department Store Lands in Cairo Festival City Mall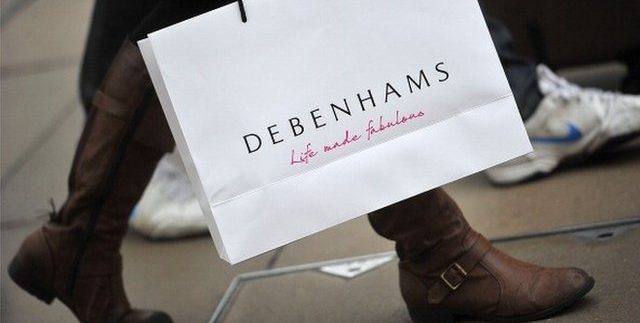 Maybe because they're rare across the otherwise eclectic Cairo shopping scene, but our love for one-stop department stores is infinite. They simply make many a life – and shopping experience – much more pleasant and easy, by offering everything one might ever need in one place.
With a branch already in Alexandria, renowned UK department store, Debenhams, has finally landed in Cairo. Located in Cairo Festival City Mall, the store is huge – and by huge we mean it takes up the space of about 4-5 moderately-sized shops. With its bright lighting and overall bright, but basic, colour scheme, the shop is modern and sleek in its design. We immediately noticed, however, the strange scarcity in staff, spotting a single sales personnel every once in a long while.
Upon entrance we found ourselves in the kids' clothing section, which offered an abundance of cute options for kids of all ages, from toddlers to tweens. Moving on from this section, we found ourselves in the bath section which offered an abundance of Egyptian cotton bath products, from towels to bath mats. The towels are offered in all sizes (hand towels for 110LE and bath towels for 230LE), as well as in a whopping 42 different colours.
The men's section was next, and we found ourselves amidst an array of fashionable items by countless Debenhams-exclusive designers and labels. For sturdy casual-wear, the nautical and outdoorsman-themed Maine brand is a definite catch, offering items like check shirts (400LE) and Khaki pants (500LE). For more semi-formal, smart casual items, the John Rocha brand fits the mould, offering items like an elegant black jacket (1100LE) and a cardigan-inspired, less formal grey jacket (770LE). Said jackets can be paired with some soft V-neck jumpers from one of the more economy brands, Thomas Nash (320LE). The men's section also includes a loungewear and underwear partition.
The women's section, meanwhile, was overflowing with alluring apparel for every occasion. The rather coveted Betty Johnson label was the first one we spotted and a fancy teal chiffon top (650LE) and blazer (1100LE) caught our eyes. For plus-size clothing, UK high-street brand, Evans, is stocked and offers an extensive line that includes an intricate white lace collared dress (650LE) and a long, cosy cardigan (525LE). Offering a breath-taking line of eveningwear, another popular UK high-street brand, Coast, was right next door offering a range of slinky elegant dresses. A long, green sequined maxi dress (2900LE) was a showstopper, as well as a short, orange cocktail number (2250LE).
For more casual clothing, the Jasper Conran skinny jeans (700LE) looked ultra-comfy yet stylish, and would look street chic with the black and cream Julien Macdonald handbag (800LE). The chart situated amongst all the jeans on display explaining the different fits was definitely helpful and quite a nice touch. We also loved the Miss Selfridge line, with special petite-sized items, and had our eyes on a pair of black booties (699LE) and red court heels (599LE). Next up was an adequate, if unspectacular, makeup and fragrances section, offering beauty goods from major brands including Chanel, Lancome, YSL, Bourjois, Clarins and Givenchy amongst others.
Debenhams is definitely a splendid addition to the Egyptian shopping scene and though some of its items carry hefty price tags, they were bursting with great quality across many brands that aren't available anywhere else. It makes for a good shopping destination for those with a maturer sense of style and a simpler alternative in UK brands than the fad-driven stylings of other British chains such as Topshop – another recent addition to Cairo Festival City – and the like.