Dress Code: The Pricey Code for Sexy
Cirtystars, Omar Ibn El Khattab St.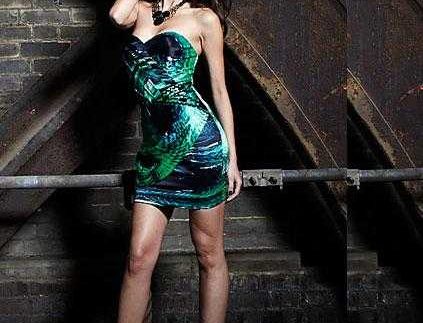 Glittery,
sequined and colourful are all words fit for describing Dress Code. This recent
addition to Citystars mall is a party/cocktail dress shop, conveniently located
on the third floor of Phase 2 in the midst of high-end fashion brands like
Longchamp, Boss and Iceberg. If its location looks familiar; that's because
Dress Code has opened in the place of BCBG Max Azria, which shut down last
September.
The shop's design
is very simple and extremely organised. Each section is divided by designer and
then by colour, making it easy to navigate through the collections and pick out
an item if you know what you're looking for. As for decor, there isn't much
going on since the dresses are flashy enough for the entire shop. They do have
some stylish stones casually thrown around the dress isles, adding an
interesting feel to the room.
Dress Code does
not exclusively represent one designer; instead, they sell an assortment of dresses
under different names such as the über-chic designs of Aidan Mattox, the sexy and flirtatious dresses of
Lipsy and the A-Lister collections of ABS by Allen Schwartz.
Almost all
dresses are party dresses fit for a younger crowd. They have different styles
that fit many occasions, like the Fandango Violet Tulle mini dress, a glamorous
dress for a fashionable wedding. The shop also offers funky party attire for
New Year's Eve like a Disco Silver, knee-length sequined dress.
If you need a
simple dress for a work event, you can pick one of their long, sleek Black
Organza gowns. Sizes are sadly limited; so unless you fit into a US size 2 or
4 (European sizes 32 and 34), this may be a frustrating experience for you.
The only
negative aspect about Dress Code was the distasteful customer service that this reviewer experienced. The
saleswoman was aggressive, but her manager was quick to cover up for her by apologising
for her tone.
Dress Code's
prices are not wallet-friendly; but given the quality of the dresses and the
designers behind them, it's understandable. For example, a Lipsy dress retails
for 800LE, while an Aidan Mattox dress costs almost 3500LE. When this reviewer
checked the same dress's retail prices on Saks Fifth Avenue's website, it was
priced at a whooping 1000LE less than at Dress Code. However, the price hike
may be due to customs and taxes and we all know that fashion and looking good especially
doesn't come cheap; so no judgement here.
Bargain hunters will appreciate the sales rack
in one corner displaying items from BCBG Max Azria. The shop also has
regular promotional offers. Recently, Dress Code launched a 'Buy One get One Free'
promotion on all black dresses in the shop. So, it's not so bad if you are
willing to wait it out until their next bargain offer.