Le Jardin: Garden Furniture & Accessories in Downtown Katameya Mall, New Cairo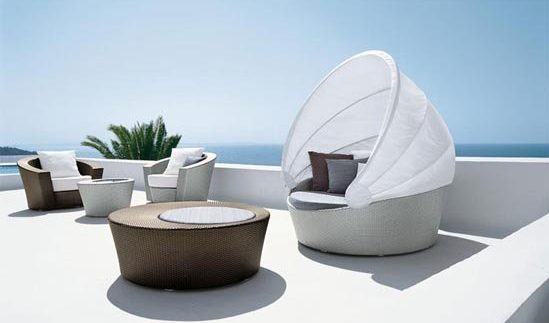 With wonderful weather almost all year round, numerous shops in Cairo aim to cater to all your outdoor furnishing needs. With a French name meaning 'The Garden', Le Jardin has opened up in Downtown Katameya, striving to provide a full range of garden furniture, accessories and landscaping options.
The shop is small and seemingly disorganised, with many items strewn out over the walls and furniture displays. Despite suggesting a limitation to just outdoor furniture, the shop stocks accessories that would also be suitable for indoors; their website also suggests a much wider range of indoor furniture which can be ordered in.
Although not entirely aesthetically offensive, the items seem to be a confusing mish-mash of both contemporary and classic designs, with some pieces being more tasteful and better quality than others. With both practical and decorative pieces, the shop makes for some interesting browsing, whilst staff politely hover behind the desk.
A collection of lantern shaped wall lights are on display, as are black, free standing, electric lights (330LE). Tall, bamboo oil burners are priced at 100LE, whilst giant, alabaster-effect lanterns are priced upwards of 650LE. An attractive wooden table lamp – more suitable for a living room – was retailing at 570LE. Amongst an array of faux flower arrangements, we spotted some small, brightly coloured candle holders with trendy oriental cut-outs on the front.
Along with starburst mirrors (+/-550LE), antique-looking, wall-hung, solid wood candelabras are also in stock, as are pretty candle and mirror arrangements. Leather and silver place mats and coasters were embellished with oriental, elephant engravings, giving off a Mediterranean feel. Large parasols are sold with their stands at a reasonable 580LE.
Furniture sets were fairly limited, but diverse enough to give off an impression of the stock and are largely available in the renowned, dark grey wicker design, with cushions on top. A large L-shaped sofa with thin, burnt orange cushions and a matching, glass topped coffee table was priced at 19500LE. A similar sofa, along with two arm chairs costs 12,780LE whilst a sun lounger with a collapsible sun-shade was priced at 3100LE. On the cheaper side of things, a set of four dining chairs and a round table was priced at 4200LE.
Misleadingly, Le Jardin stock a number of items that would be unsuitable for an outdoors area; the number of eclectic items, clashing styles and disorganisation may leave customers feeling a little overwhelmed.