Mandala: Unique Knick-Knack & Accessories Shop in Zamalek
6 El Gezira, El Wosta St.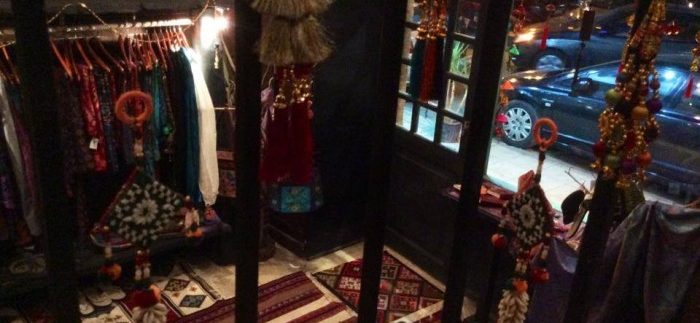 With diverse, specialist stores expanding rapidly around the city, shopping in Cairo has taken on a new dimension, where brand names and the latest fads aren't always the sole deciding factor in spending your hard earned cash. Located in the heart of Zamalek, Mandala offers a variety of colourful and ethnic garments and accessories, bringing different parts of the world closer to Cairo's bustling streets.
Walking in, the strong smell of incense and the soothing background music combined with the decor made of wall hangings and patterned carpets, statues and carved wooden shelves gives off a peaceful and artistic vibe.
While the first floor displays a variety of handmade handbags, scarves, attractive harem pants, colourful pouches and special garments for men and women, the second floor is set out as a relaxing seating area, with comfortable floor mats, florid cushions and low-rise wooden tables, for people to socialise in an at-ease setting.
While the store is conveniently organised, the large display of vibrant garments is a little overwhelming. Displayed on a top shelf, a wide range of fun decorative scarves (66LE) were knotted and placed inside several wicker baskets. A few hand-made fabric bags (160LE) were scattered around the shop; while they were not rich in design, their simplicity and material made them seem rather handy and easy to carry around.
The Indian Harem pants (185LE) and Skirt Wraps (325LE) were the most popular items on display, carrying natural colours such as blue, green and brick-red. Some had uncluttered patterns, while others were more striking in their artwork, embellished with vivid colours and sparkly beaded designs.
A diverse collection of handcrafted accessories are also on offer; a few stiff sandals (225LE), a range of fun every-day pouches (95LE), as well as leather bound note books (230LE) and a small wicker basket with a variety of hand-made earrings and anklets (20LE).
A whole section set next to the cashier counter was dedicated to oils, teas and remedies including a collection of strong-smelling herbal soap (35LE), over priced aroma oil (170LE) and varieties of flavoured green tea (70LE).
Overall, Mandala offers more of a lifestyle experience than just a shopping one. Combining a soothing and cosy atmosphere with unique items, you'll surely come back here for an escape from the crowded stores and malls, even if just looking for a unique gift.