Nefertari: All-Natural Body Care Chain's Latest Branch in Mohandiseen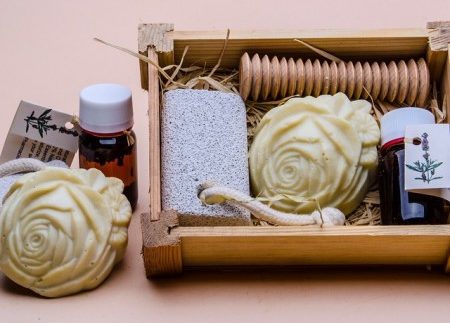 Shopping in Cairo is beset with traps and misguided information – none more so than when it comes to health and beauty products. Even with international brands, the label of '100% natural' is very often inaccurate.
Despite the influx of said international brands, one local enterprise continues to, against all odds, trump them: Nefertari. The chain continues to grow both in popularity and branches, the latest of which is in Mohandiseen.
The venue is quite spacious – bigger than its Zamalek and Dokki shops, for example – and the items are laid out in such a way that you can browse very comfortably.
At the time of our visit, we were immediately attracted to a box that held three organic Egyptian cotton white towels with Pharaonic motifs (79LE) and another with two bars of soap and a small towel with an eye of Horus design (54LE) – both suitable for simple, unfussy gifts. Of the larger collections was a basket with several products, all with the same scent at 245LE.
The second collection of items that tempted us were cotton products, starting with plain cream-coloured towels that come in three sizes at 10LE, 40LE, and 104LE respectively. We also spotted more intricately made towels, like a replica of the 40LE medium towel but with crochet edges (65.50LE), and another with a depiction of Queen Nefertari for 22LE. The collection also offers bathrobes and cotton slippers.
The soap collection comes in a diverse range of shapes and scents, with one of our favourites being a lavender and olive oil one. While the square-shapes and murky browns aren't the most attractive in appearance, the collection of four rosemary and olive oil scented soaps were actually quite enticing. One bar of soap costs 25LE and is relatively large.
When it comes to the beauty products, the diversity is even bigger; they have everything from facemasks (39LE) to bath salts from Safaga (unscented 30LE, floral scented 35LE) and even lip balm (30LE) – though aid lip balm is a little too greasy to the touch.
One thing that shoppers often forget is that Nefertari also stocks organic food like brown sugar (15LE), coconut oil (36LE), rose water and mint oil (16LE).
There is still a certain barrier that local brands have to overcome – the poor reputation that has come to stand over them like a dark cloud has unfairly seeped across to brands like Nefertari. But if the Mohandiseen branch proves anything, it's that Nefaertari can hold its own against the increasing number of international brands – it's affordable, too.