El 7ara: Bustling Alleyway Cafe in Zamalek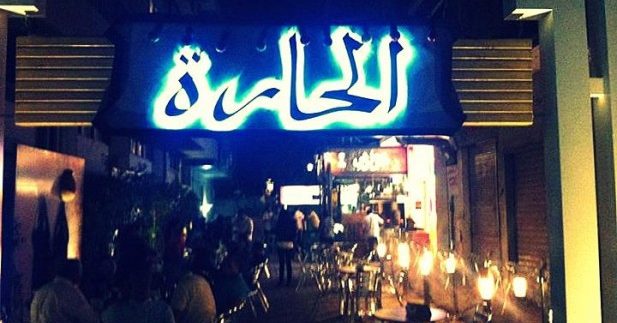 For many locals, hitting of the many Cairo cafes is a typical night out. And while the city is saturated with many establishments all attempting to do the same thing differently, some manage to be interesting enough to warrant a visit; El 7ara, on Zamalek's Shagret El Dor Street, does just that.
The cafe is located in an open alleyway – hence the name – between two apartment buildings. Aside from the lighting from the meagre floor fixtures and surrounding eateries, El 7ara is completely dark, but not to the point of causing discomfiture. While the busy environment made us assume that service would be hard to come by, we were pleasantly surprised to find that our assigned waiter was both attentive and prompt in appearing when we called.
With menus already on the table, we decided on an American coffee (16LE), an El 7ara cocktail (20LE), a blueberry and hibiscus smoothie (25LE) and a banana split (25LE). El 7ara's menu is extensive, with categories dedicated to chilled beverages, hot chocolate, smoothies, frappes, shakes, cocktails, flavoured drinks, desserts and shisha.
Bland and frothy, the smoothie tasted like chilled foam and was completely drained of any blueberry or hibiscus flavours. Meanwhile, the banana split was a decadent desert with three scoops of vanilla and chocolate ice cream wedged between two banana halves. Drizzled in chocolate and caramel syrup, the sweet treat was truly marvellous and made up for the unimpressive smoothie.
Up next was the El 7ara cocktail and American coffee. Blended with orange, banana, strawberries and other unidentifiable fruits, the cocktail was a tropical mixture that burst with tangy flavours. The American brew was, in all forms, a standard, tepid coffee, which only disappointed us with the hefty price tag attached.
As our orders were cleared from the table, we were diligently informed by our waiter that El 7ara adheres to a 50LE minimum charge per person. Given the choice between ordering from El 7ara's limited dessert and drink menu or its sister venue, 3am 7awawshi, we decided on three orders of barbequed hawawshi (23.50LE) – to go.
While a rather pleasant place to visit with friends, El 7ara provides no new concepts or exceptional tastes to warrant the steep prices and unfortunate minimum charge.