Arz: Traditional Lebanese Restaurant in Mohandiseen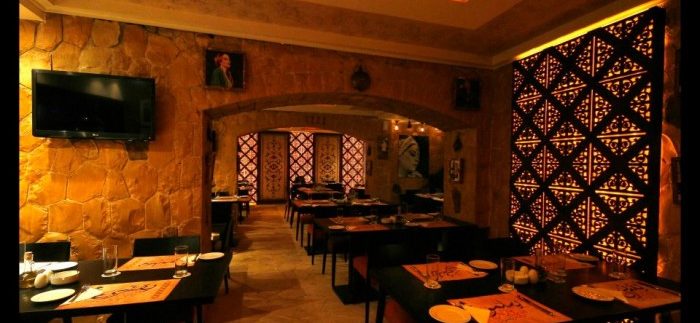 Over the years, Lebanese restaurants in Cairo have continued to increase, with only a select few living up to the high standards of a cuisine with such strong heritage and variety.
Our visit to the Arz Mohandiseen branch came during rush hour, and the restaurant was empty, which meant we had all the staff to ourselves.
The restaurant's décor is vividly Oriental with dimmed lights, stone lined walls and intricate mashrabias. Soothed by the calm ambience and the Arabic background music, the formal atmosphere is eased by countless images of Fairouz and hanging tapestries.
Interestingly, the menu digresses into international and Egyptian cuisine, widening its appeal without spoiling the restaurant's Lebanese specialty. Levantine appetizers of labneh (17.95), makanek debs roman (26.95LE) and fattoush (17.95LE) are offered, alongside Alexandrian liver (26.95LE), and grilled or fried Halloumi cheese (24.95LE).
To start, we ordered a serving of makanek (26.95LE), one taboula salad (18.95LE), hummus beiruty (19.95LE) and falafel (15.95LE), before our mixed grill (68.95LE) main course.
Along with the spread of mezzes and dips on our table, a basket of heated shami bread was placed for us to pick at the bowls with. When the bread was consumed to the last crumb, we were spoiled by our waiter who brought us more without being requested.
The debs roman dressing that garnished our makanek – mini oriental sausages – was fantastic. Made with pomegranate juice, a squeeze of lemon and a pinch of sugar, the sauce added a zest to the sausages and took their flavour to irresistible levels.
In true Lebanese fashion, a pitcher of olive oil rests atop every table; we made copious use of it on the taboula salad which enhanced the already fresh flavours of the cucumber, parsley, mint, onion and bulgur.
Before our main dish was served, we struggled to refrain from filling-up on the splendid dips of hummus beiruty and tomeya. Each had been prepared to perfection, with the chickpea dip boasting its signature bitterness, enhanced by diced vegetables, spices and oil. The sour garlic sauce was deliciously prepared with the garlic popping in flavour with the mayonnaise.
Our mixed grill platter of kebab, kofta and chicken was served well done, without being dry. Served alongside thin sheets of sajj bread, French fries and a blob of garlic sauce, it was the kofta that stood out the most with its smoky flavour and fatty beef. Despite having a pleasing texture, the chicken cubes were less flavourful and under-seasoned, leaving us slightly disappointed with our main course.
Indulging in a little sweetness, the dessert menu features local favourites such as Om Ali (12.95LE), rice pudding (11.95LE) and Oriental sweets (26.95LE) among others. At the recommendation of our waiter, we opted for the konafa nabulseya (24.95LE). With syrup served on the side, the generously sized konafa had been prepared with a thick layer of cheese, topped with a thin layer of dough, and sprinkled with ground pistachios. Forking in, the stretchy cheese made the slice difficult to cut.
There is no doubt that Arz succeeds in bringing the finest tastes of Lebanon to Cairo. With its traditional ambience and reasonable prices, it makes the food accessible.