China Town: Fusing Indian & Chinese Cuisines in Maadi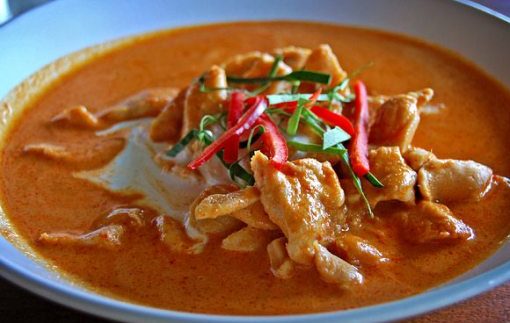 With restaurants in Cairo becoming increasingly samey, we love new cuisines with a story. The already popular Nawab, a famous Indian ruler, and Begum, his wife, are the names of the two stalwart restaurants, in Zamalek and Maadi respectively, that enjoy a pretty steady popularity when it comes to foods of the East. Begum recently opened a sister venue, China Town, serving what's called Desi-Chinese Cuisine or Indian-Chinese Cuisine.
Developed by a small Chinese community living in India, the cuisine is a combination of their own techniques and spices with Indian tastes. It has since expanded to other South East Asian countries and, most recently, Maadi.
Located in the same building as Begum, China Town is a modest sized restaurant with dim and comfortable lighting, friendly staff and a cosy atmosphere that lets you know it's okay to eat heartily.
We explored the menu, intrigued by how our favourite dishes could be done differently. We opted for some classics; Spring Rolls Chicken (18LE), Chicken Sweet 'n Sour (43LE) and Vegetable Fried Rice (20LE).
The Spring Rolls were served first, and while we appreciate speed of service, no one likes rushed food. The rolls were unfortunately soggy, having soaked up more frying oil than needed and completely lost the crunch factor, but the vegetable and chicken stuffing was actually quite tasty with the hint of the caramelised vegetables shining through.
The Sweet 'n Sour Chicken was the biggest surprise. While we've seen crunchy sweet and sour chicken with varying amounts and recipes, this one definitely stood out as the most unique, served in a rich sauce closer to a curry, tastefully spicy, with bell peppers and onions. The chicken was not fried but rather cooked in the curry, infusing the rich flavour into the chicken. While it can catch you off guard with no warning of it being spicy, it's definitely a variation that's worth a try.
The Vegetable Fried rice, meanwhile, was a little disappointing, tasting quite bland and lacking the flavours of being cooked in oil alongside the vegetables and instead tasting like plain steamed rice.
On a sidenote, China Town's menu does not offer dessert of any sort.
While overall a pleasant experience to try a new cuisine, it's important to note that there's plenty of room for improvement and we would love to see that extra mile of attention being paid to the food.