Moro's Take Away: Mohandiseen Restaurant Serving Predictable Fast-Food
23 Syria Street, Mohandiseen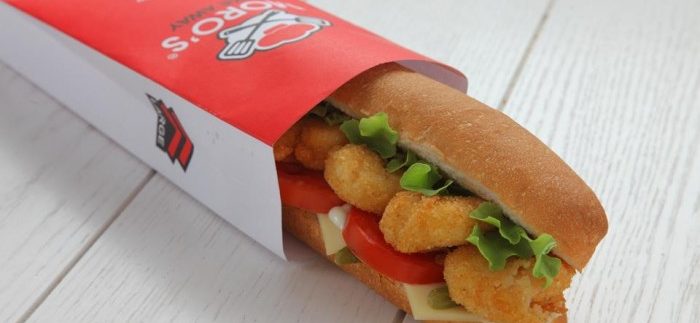 The food industry is no different than any other when it comes to imported goods and ideas; the Cairo restaurant scene continues to adjust and adapt the fast-food concept to cater for the specificities of the local palate – it's the reason so many local eateries and chains are able to compete with the likes of McDonalds and the sorts.
Located on Syria Stree in Mohandiseen, Moro's Take Away is a recent addition to Cairo's constantly expanding fast-food circuit with an extensive menu that strives to satisfy all tastes, for any meal of the day. While the restaurant promotes itself as a takeout restaurant that delivers 24 hours a day, they also have a simple dining space, fashioned with a black bar top and red cushioned stools for eating in.
Peculiar to the traditional frames of fast-food, Moro's offers lentil (9.99LE) and chicken cream (19.99LE) soups. The restaurant also offers three varieties of club sandwich; tuna (15.99LE), roast beef (17.99LE) and plain eggs with cheese (12.99LE).
Perhaps the most interesting item on the menu is the chicken pizza sandwich (16.99LE/20.99LE), made with slices of chicken and cuts of hot dog, topped with olives, tomatoes, green peppers and mozzarella cheese. Though it was served steaming hot in a loaf of white bread, the jumble of contents fails to come together, with the bland chicken dominated by the overly salty cheese.
Though the overall flavour of the egg and cheese club sandwich –possibly Moro's healthiest item – is pleasing in a predictable, homely way, with plenty of fresh cuts of lettuce and tomato, the use of use of processed cheese slices was somewhat disappointing. Even a half-decent cheddar cheese would have been better.
The restaurants appetisers and side dishes are varied; their onion rings (M L11.99LE) and fries (M4.99LE L6.99LE) had both been prepared with fresh oil that gave them a crunchy texture and light flavour, enhanced by a sprinkle of herbs. Although we were looking forward to tasting them with the Moro's own garlic mayo dip (1.75LE), their version of the condiment was solely mayonnaise, without the faintest hint of garlic.
Despite providing convenient, uncomplicated fast-food, Moro's Take Away's offers little innovation or novelty – big words to use for fast-food, maybe – to draw you away from your favourites.