Kukuruza Gourmet Popcorn: Gastro-Popcorn in Cairo Festival City Mall, New Cairo
Cairo Festival City Mall, 3rd Floor (Next to Adidas),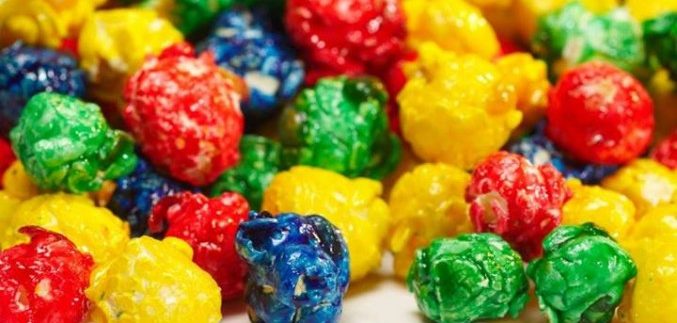 Taking over restaurants, cafes and even shops in Cairo, trendy food fads never seem to get old in this city. Attempting to break into the popular, specialty sweet market, new-comer Kukuruza brings gourmet popcorn to New Cairo's newest shopping hot-spot, Cairo Festival City Mall. With branches in some of the most cosmopolitan cities in the world, their gourmet popcorn can also be seen in Tokyo, Riyadh and the USA.
The small, third floor booth is eye-catching, with an olive and black colour scheme giving off a sophisticated, sweet-shop feel. Two, glass fronted cabinets show-off a vast range of different flavoured, colourful popcorns whilst tempting, illustrated menus hang on the walls.
The menu is vast, and both small and large (20LE-38LE) sealable bags are available for takeaway. Customers are also able to mix two flavours in one bag (29LE). Flavours include the usual oil & salt and caramel variations (25LE/35LE), but transgress to more exotic, imaginative flavours including maple bacon (28LE/38LE), peppermint cocoa (28LE/38LE), coconut macaroon (28LE/38LE) and cinnamon bun (28LE/38LE). The only flavours that were unavailable at the time of our visit were the savoury, cheese variations.
The staff are friendly and enthusiastic, and readily offered us tasters of warm, fresh popcorn pieces. Particularly proud of the fact their popcorn is air popped – rather than cooked using oil or butter – the popcorn is less greasy than those usually seen on the market; it's also healthier, before the added flavourings.
We opted for four flavours, mixed in two, small bags (29LE/each); cookies and cream (25LE/35LE per bag), black raspberry with vanilla cream (25LE/35LE), classic caramel (25LE/35LE), and rainbow fruit (25LE/35LE) – a multi-coloured mixture of apple, banana, strawberry and blueberry favours.
The popcorn itself was warm and crunchy, with a soft, airy centre whilst each piece was thoroughly coated in its topping. Unlike cinema popcorn, we were thoroughly impressed with the classic caramel, which was coated with rich, sticky caramel. The cookies and cream was an interesting, flavourful creation. Our favourite was undoubtedly the black raspberry and vanilla cream; the black raspberry was sweet and fruity, whilst the cream gave an aftertaste likened to sugary yoghurt. Supposedly made with real fruit, the rainbow fruit mix tasted disappointingly artificial, but was delicious none-the-less, with each piece tasting distinctly of the fruit described.
Dangerous for even the smallest of waistlines, Kukuruza's artisan twist on regular popcorn is possibly the coolest – and most addictive – thing since cupcakes. Suitable for just about every occasion, we are eagerly awaiting delivery to help curb our cravings.